Common Culprits of Attic Air Leaks
Published on July 16, 2023
Attic air leaks can lead to numerous issues around the home, such as energy inefficiency, increased utility bills costs, and compromised indoor air quality. Identifying and addressing the common culprits for attic air leaks is crucial for maintaining a well-insulated, energy-efficient home. Understanding the primary sources of air leaks and the importance of attic insulation in Toronto, provides insight into the best actions and repairs required, from attic roof leak repair to insulation removal or upgrades with a leading insulation company in Toronto. EcoComfort is a top attic serving property owners throughout the Greater Toronto Area to enable better energy efficiency, indoor comfort, and healthy living.
Read on to learn more about the common culprits for attic air leaks.
Damaged Attic Insulation in Toronto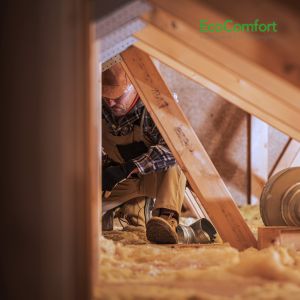 There are numerous factors that can damage attic insulation in Toronto. Once the insulation is damaged, it can allow for attic air leaks. Let's explore what can damage attic insulation.
Pests: Pests damage insulation by nesting in it. Keeping a well-sealed attic will prevent pests from entering the attic.
Moisture: Any water or moisture will cause attic insulation to clump and make it ineffective.
Age: Old insulation can degrade over time, and you must call an insulation company in Toronto to upgrade your insulation.
Gaps in Attic Insulation
Gaps in insulation contribute to attic air leaks. If your insulation isn't installed correctly or degraded, attic air leaks may occur. Blown-in cellulose insulation is excellent for an attic as it can enter all hard-to-reach areas and fully insulate the space, preventing gaps and also preventing air leaks. EcoComfort specializes in using blown-in cellulose insulation for their attic insulation upgrades.
Why Minimize Air Leaks in the Attic
There are numerous issues that can cause attic air leaks. For instance, if you have faulty attic hatches or they are unsealed, this will also result in attic air leaks. It is always a good idea to notice drafts in the home when all of the windows are closed to conduct an attic inspection.
Attic air leaks are problematic as they make your furnace or A/C work harder to keep the home's temperature balanced. Attic air leaks will result in a loss in energy efficiency, increasing your utility bills significantly.
Attic air leaks may also introduce moisture in the attic, which can lead to decay and mold in the property. Mould is a homeowner's worst nightmare as it can cause allergens, make people ill and slowly destroy the materials in the home it grows on.
Upgrade Your Attic Insulation with EcoComfort
If you want to check on the status of your attic and ensure you do not have any attic air leaks, call EcoComfort and speak to one of their attic experts today. EcoComfort is an award-winning attic insulation company in Toronto with a solid reputation for quality work and excellent customer service. We warranty our work, and we are insured, so you need not worry about anything when you work with us to upgrade your insulation or repair your attic.
We are proud to use safe, chemical-free materials along with offering cost-effective pricing.