Top Insulation Company Proudly Serving Mississauga
EcoComfort is Proud to be Serving Attics Across Mississauga!
Mississauga is Ontario's third largest city, with a growing population that exceeds 800,000 residents. Mississauga is home to diverse landscapes, shopping centres, golf courses, and the largest international airport in Canada - Pearson International Airport. EcoComfort is a leading insulation company in Mississauga, providing premium attic insulation, attic ventilation, mold remediation, and other expert attic services to homeowners throughout Mississauga and surrounding areas.
Choose the Best Attic Insulation Company in Mississauga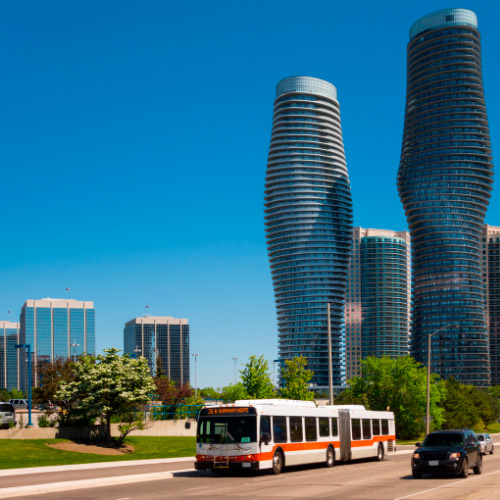 Tap into high-quality, professional, and affordable attic insulation in Mississauga. EcoComfort's team of attic experts is equipped with industry knowledge that enables us to effectively identify attic deficiencies that can increase costs on your monthly energy bill. We work fast to remove, upgrade, or install insulation and provide other attic services to restore and improve your attic's condition. EcoComfort offers a full range of attic-centric services to keep your home in tip-top shape, from air quality to heating. You can trust that the team of experts at EcoComfort will take care of your attic needs.
Is Old Attic Insulation Costing You?
Before you schedule insulation removal or upgrades, it's imperative that you schedule an attic inspection by the specialists at EcoComfort. Our team of professionals will identify any problem areas, including damaged insulation, structural issues, attic ventilation, deteriorating materials, and more.
Attic inspections allow for problem-solving and remedies to ensure your attic insulation is sufficient and working adequately. When you experience issues like uneven temperature distribution or poor ventilation, your old attic insulation could cost you money and stress. Unnoticed damage can result in high energy bills, appliance maintenance, and mold outbreaks that can lead to further destruction and costly payments, so it's ideal to schedule attic inspections by the experts at EcoComfort.
See the benefits for yourself when you upgrade your attic insulation in Mississauga.
Signs Your Attic Insulation is Not Performing
When your attic insulation isn't performing as it should, it can burden you and those living in the home. Although some signs are difficult to notice unless you thoroughly inspect your attic, there are a few indications that you should pay attention to.
High Utility Bills: If you notice that your utility bills are increasing with no changes in your water usage, you likely need new blown-in insulation in Mississauga. If your HVAC system has to work in overdrive, it usually means you have poor insulation. When insulation isn't sufficient, heating and cooling air can escape your home, while outdoor air can sneak in.
Inconsistent Indoor Temperature: When running your air conditioning, you should trust that the air will circulate in your home effectively. Although, if you have old or damaged insulation, your indoor climate will fluctuate and change temperatures in different areas of your home.
Pests & Critters: When your attic insulation has been damaged or worn out, it permits pests, animals, and critters to enter your home. These creatures continue to damage your insulation and eat away at it, making your HVAC system work even harder to maintain temperatures throughout the house.
Water Damage: If you've had any water damage or roof leaks, there is a high chance you need your attic insulation in Mississauga upgraded. Water damage causes moisture build ups, which allows mold and mildew to grow quickly. Once mold and mildew are present, it causes health risks to those in your home.
If you are experiencing any of these issues or suspect a problem with your attic insulation in Mississauga, contact the professionals at EcoComfort for attic insulation removal and installation services.
Upgrade Your Attic With EcoComfort
One of the most significant reasons to upgrade your home's attic insulation is the energy you save. Annually, you'll save around 30% - 40% on your energy bill and will have better energy efficiency. When your attic insulation is not performing well, your cool or warm air (depending on the season) can escape through cracks and crevices. This wastes money on utility bills and doesn't circulate air in your home correctly. To ensure your home is insulated and ventilated sufficiently, contact the technicians at EcoComfort.
Attic insulation plays a significant role in how the rest of your property functions, and when it's not up to par, your home can suffer.