Attic Insulation Upgrades In Mississauga
A properly insulated attic is the most effective way to stop winter heating and summer cooling from escaping through the roof. Simply put, good attic insulation is the key to improving home energy efficiency – and it's essential in reducing utility costs throughout the year.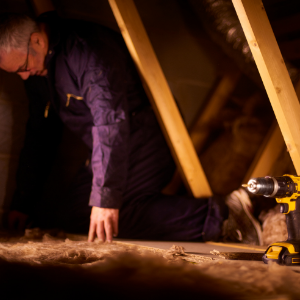 Homeowners concerned about home energy and inefficient energy consumption would be wise to undertake attic insulation upgrades in Mississauga. It will allow for a comprehensive assessment of installed insulation materials and measurement of insulation performance levels.
There's no question that attic insulation upgrades will make a noticeable difference to home energy efficiency. Older homes usually have attic insulation that is below current standards and quite often below building code requisites. It's a perfect recipe for wasting energy.
Homeowners who upgrade their attic insulation can pretty well guarantee improved home comfort and reduced utility bills. In fact, a well-insulated attic can provide savings of between 30% and 40% on winter heating and summer air conditioning season after season annually.
High-Quality Attic Insulation Ensures Energy Efficiency
In wintertime, under-performing insulation allows for severe heat loss. It means that the furnace must work harder to keep the entire home comfortable. It's similar in the summertime when the AC system has to work harder to provide indoor comfort. At EcoComfort Insulation and Contracting, we install high-quality insulation that offers improved home comfort and cost savings at the same time. Customers are assured of great results with every installation.
EcoComfort typically recommends blown-in cellulose for the attic. This product provides excellent coverage throughout the attic and roof cavity along with satisfactory R-Value. With proper air sealing, blown-in cellulose will measurably block air leakage and effectively insulate the home. Blown-in cellulose insulation has gained popularity over the years simply because it works well.
Satisfactory Thermal Performance
Offering satisfactory thermal performance when professionally installed, blown-in cellulose can also be used to enhance the R-Values of existing insulation. As long as existing materials are completely clean, dry, and uncontaminated, the blown material can be installed as a "top-up".
Fire Resistance in the Attic Space
Cellulose insulation is specially treated to be a fire-resistant material. Once installed, the product is designed to prevent the spread of fire. Industry testing indicates that cellulose insulation does well in fire test demonstrations, providing up to 50% more resistance than comparable materials.
Very Effective Coverage in Attics
Blown-in cellulose is an excellent application for insulating those "hard-to-reach" spaces found throughout the attic and roof cavity. The awkward areas in the attic often restrict access, and the blown-in product provides effective coverage, filling smaller spaces better than insulation batts.
Cost-Effective / Good Investment
When professionally installed, blown-in cellulose requires less manpower and less installation time than many other insulation product options. It is, therefore, a very cost-effective project, mainly due to the lower installation cost. The product provides an excellent long-term investment.
A Clean and Non-Toxic Product
Blown-in cellulose contains NO toxic chemicals, NO asbestos materials, and NO formaldehyde. The raw material is treated with boric acid, which acts as an antiseptic and insecticide at one time. This ensures that the finished installation repels insects and resists mold growth in the attic.
A Good Attic Inspection Will Identify Problem Areas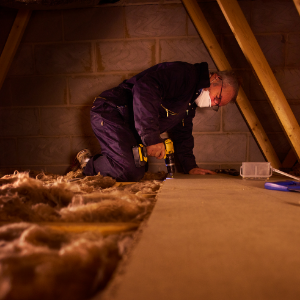 When installing attic insulation, it's beneficial to inspect the attic and roof cavity. This is the best way to identify developing problems and provide a remedy in advance. A good inspection will focus on deteriorating insulation materials, air leakage issues, and even structural issues.
Homeowners considering an attic inspection in Mississauga will be able to address problem areas before they become potentially serious. Because the attic is out of sight, many problems are unobserved – and a good inspection can be integral in spotting problems that need a remedy.
When buying or selling a house, a proper attic inspection is critical. It will avoid the potential for surprises while allowing for a true assessment of the entire house. A proper attic inspection will typically assess airflow, insulation, and ventilation – all elements which must perform properly.
Opting for a Professional Install with Attic Insulation
It's not uncommon for a homeowner to be tempted by a DIY approach to attic insulation, and especially in an effort to save money. However, nothing comes close to an insulation professional with the tools, the equipment, the experience, and the expertise.
From inspection to installation, professionals know what to do and how to do it. At EcoComfort, we do it all from end to end, including attic inspection, insulation removal, insulation upgrades, and attic ventilation. We provide high-quality work that's guaranteed.
For Attic Insulation and Attic Inspection in Mississauga, Call the Experts at EcoComfort Insulation and Contracting
Without a doubt, a well-insulated attic will enhance energy efficiency and improve home comfort. At EcoComfort, we install the high-quality insulation material that is safe and chemical-free. Before any installation, we inspect the space to determine if repairs and retrofits are required and whether a complete replacement will be needed.
EcoComfort offers services to customers in the Greater Toronto Area and throughout the Golden Horseshoe. Whatever the project entails, our workmanship is guaranteed and often exceeds customer expectations. Most importantly, we manage every insulation project from start to finish without taking unnecessary shortcuts.
Learn more about our services by contacting one of our in-house professionals at 416-333-4554 or visiting our website. For a fast, free project estimate, customers can use our convenient online request form.