Attic Insulation in Mississauga
Are you experiencing inconsistent temperatures or humidity in your home?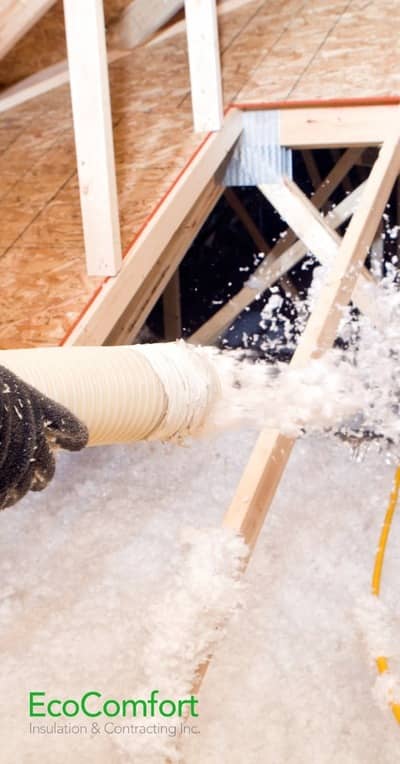 Without adequate attic insulation in Mississauga, your home can suffer the consequences. From mold outbreaks to poor ventilation, it can be an annoyance when your attic insulation doesn't perform as it should.
For homeowners throughout the GTA, attic insulation has become more of a priority over the years due to the ever-increasing cost of energy during the year. Besides the cost savings, upgrades to home insulation also contribute to improved indoor comfort and air quality for the entire family, so it's important to reach out to a professional attic insulation company for installation or upgrades.
Professional Attic Inspections
Homeowners concerned about inefficient energy consumption should schedule a professional attic inspection in Mississauga. It allows for a comprehensive assessment of installed insulation materials and measurement of insulation performance levels. They can inspect your attic for any damages, any destruction to the insulation, pest evidence, and more.
Why Upgrade Your Attic Insulation?
A properly insulated attic is the most effective way to stop winter heating and summer cooling from escaping through the roof. Simply put, good attic insulation is the key to improving home energy efficiency, which is essential in reducing utility costs throughout the year. In fact, a well-insulated attic can save between 30% and 40% on winter heating and cooling costs season after season annually.
When insulation is not performing, the HVAC system (heating and cooling) consumes additional energy, trying to provide comfort during winter and summer. As a result, annual energy costs will be high, and the HVAC equipment will experience added wear and tear. The remedy is to upgrade the insulation – installing quality material, ensuring proper air sealing, and upgrading ventilation.
Homeowners concerned about home energy and inefficient energy consumption should schedule a professional attic inspection in Mississauga. It allows for a comprehensive assessment of installed insulation materials and measurement of insulation performance levels.
What is The Best Insulation Material?
Blown-in cellulose insulation has gained popularity over the years because it works well. This material provides excellent coverage throughout the attic and roof cavity, along with satisfactory R-Value. With proper air sealing, blown-in cellulose will measurably block air leakage and effectively insulate the home. At EcoComfort, we install top-quality blown in cellulose insulation.
Benefits of Blown in Cellulose Insulation
Satisfactory Thermal Performance: Offering excellent thermal performance when professionally installed, blown-in cellulose insulation can also enhance the R-Values of existing insulation. As long as existing materials are completely clean, dry, and uncontaminated, the blown material can be installed as a "top-up." For top-up services or complete removal and installation, contact the professionals at EcoComfort.
Fire Resistant: Cellulose insulation is specially treated to be a fire-resistant material. Once installed, the product is designed to prevent the spread of fire. Industry testing indicates that cellulose insulation does well in fire test demonstrations, providing up to 50% more resistance than comparable materials.
Adequate Coverage: Blown-in cellulose is an excellent application for insulating those "hard-to-reach" spaces found throughout the attic and roof cavity. The awkward areas in the attic often restrict access, and the blown-in product provides effective coverage, filling smaller spaces better than insulation batts.
Cost-Effective Investment: When professionally installed, blown-in cellulose requires less manpower and installation time than other insulation product options. It is a very cost-effective project, mainly due to the lower installation cost. The product provides an excellent long-term investment.
Clean & Non-Toxic Materials: Blown-in cellulose contains NO toxic chemicals, NO asbestos materials, and NO formaldehyde. The raw material is treated with boric acid, which acts as an antiseptic and insecticide at one time. This ensures that the finished installation repels insects and resists mold growth in the attic.
Contact our professionals today
Signs You Need to Upgrade Your Attic Insulation
When your attic insulation is underperforming, the signs and symptoms signal a need for professional attention.
Below are some common indications that your attic is under-insulated and needs an upgrade:
Frequent temperature fluctuations
Air drafts throughout your home
Your HVAC system is overworking or malfunctioning
High utility bills without changes in usage
The indoor climate is hard to control
Previous or recent water damage to your roof or attic
Mold outbreak or pest infestation
Does Professional Installation Deliver Better Results?
It's not uncommon for a homeowner to be tempted by a DIY approach to attic insulation, especially when trying to save money. However, nothing comes close to an insulation professional with the tools, equipment, experience, and expertise. When the attic is well insulated, heating and cooling costs are significantly reduced as far less energy is wasted (and consumed). With a professional installation, the benefits are immediately noticeable – air leakage is reduced, indoor air quality is improved, and air moisture is better controlled.
With attic insulation, it's worth doing the job right first. Professionals like EcoComfort provide an entire range of services – from removing old insulation to making necessary repairs to installing proper ventilation – creating a "system" that delivers results and keeps your home healthy.
From inspection to installation, the professionals at EcoComfort know what to do and how to do it. Our attic specialists offer attic inspections, insulation removal, insulation installation, insulation top-off, attic ventilation services, attic roof leak repairs, and more - always providing guaranteed high-quality work.
The Attic Experts at EcoComfort
Homeowners considering attic insulation in Mississauga can depend on EcoComfort for quality installation from start to finish. Whether we are removing old insulation material, repairing, or re-insulating the attic completely, our high-quality products and workmanship are always guaranteed.
At EcoComfort, we do it right the first time - without cutting corners or compromising quality service.