Attic and Roof Leak Repairs
Brown spot on your upstairs ceiling or wall? Your attic insulation and roof performance may already be in jeopardy.
The longer roof and attic leaks go unnoticed, the more damage they can cause to your attic and around your home.
At one point or another, every homeowner realizes the importance of the roof and attic as functioning elements of the home. Whatever the size of a home, the roof and attic comprises a "system" that works together to protect the building structure, while providing a comfortable living space. As for proper care of the roof and attic, short-term maintenance will deliver long-term benefits. This is especially true when it comes time to make attic and roof leak repairs.
The Problem with Attic Roof Leaks:
Structural Damage
Mold Infestations
Compromised Indoor Air Quality
Attic Insulation Damage
Fire Hazards
Costly Utility Bills
As soon as you notice the signs of roof or attic damage, you should call EcoComfort for attic roof leak repair. Have our team of attic experts assess the damage with an inspection and get in front of any long term damage fast.
Signs You Need Attic Roof Leak Repair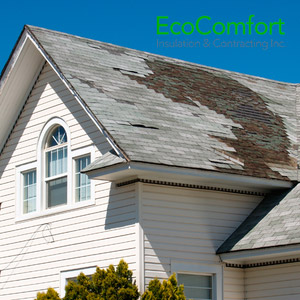 When Do Attics Need Roof Leak Repair? In most cases of attic and roof leak repair, the signs develop quickly and become harder to ignore with time. The most apparent signs are typically visual, but there are many other symptoms of an attic or roof leak that will indicate the need for emergency roof repair. Pay attention to these early signs of a roof or attic leak:
Bubbling, peeling or warped paint
Staining or watermarks around the attic and wool
Increase humidity in the attic and home
Musty/earthy pungent odour
Missing or damaged roof shingles and flashing
When to Call an Expert?
There's no question that homeowners can handle many basic home repairs personally. While this is undoubtedly money-saving, a DIY approach is not always the best. This is especially true with more specialized repairs (like roof leak repair and attic leak repair).
Attic and roof repairs are quite specialized, and it's essential to understand the cause and scope of a problem. That's where an expert would be a valuable asset – to evaluate the problem areas, recommend a remedy, and fix it right from the start. Whatever the problem – from roof leaks to flashing issues to moisture build-up – an expert inspection will soon determine the extent of repair required. Most importantly, early diagnosis is the best way to prevent more significant problems from arising.
With EcoComfort Insulation & Contracting, homeowners are assured that water leakage problems are correctly identified and a suitable remedy is offered. More than that, EcoComfort will do it all, from shingle replacement to roof restoration. The experts at EcoComfort see the roof and attic as a "system," meaning that many elements work together to provide benefits. As such, upgrades and improvements might include better vapour barriers, better ventilation, and better air sealing.
Expert Attention for Attic and Roof Leak Repairs
When maintenance is neglected, including roof and attic leak repairs, the potential for damage can result in serious restoration work that calls for emergency roof repair. That's why it's important to have the roof inspected from season to season, and professionally assessed for necessary repairs. Here, a preventive approach will really pay off – doing routine attic and roof leak repairs will allow for proper upkeep and the prevention of bigger problems, not to mention emergency roof repair situations with plenty of damage.
Common Causes of Roof Leaks
For the most part, homeowners don't ever go into their attic. The fact is, few homeowners know what to do up there or what to look for in the event of problems. With something serious like water leakage, there's much to consider – there may be a roof leak; there may be ice damming; there may even be a high level of attic condensation. And here, finding the origin and extent of the leakage is likely beyond the capacity of the average homeowner.
While not all roof leaks are a sign of trouble, there may be a need for roof leak repair or attic leak repair. The key is to pinpoint the problem, and this may well require a professional roofing specialist. The worst option is to undertake a DIY remedy when an expert is needed.
Flashing is Cracked: Flashing is installed under roof shingles to provide a water-resistant barrier. Leaking is prevalent when flashing is cracked or broken.
Broken Roof Shingles: Missing shingles or broken shingles are easy to identify. This problem can cause a slow leak in the roof as water collects in the attic.
Valleys Aren't Sealed: With a sloped roof, a damaged valley can allow rainwater to leak into the attic as water freely runs down the roof's slope.
Damaged Roof Vents: When roof vents are damaged or compromised, outside water can leak into the attic and roof cavity through the damaged edges.
Build-up of Ice Dams: When ice forms on the edge of the roof, it prevents melting snow from draining, and the build-up of water can cause various damages.
Cracks in Chimney: Chimney cracks typically develop in the chimney's mortared areas, particularly where the chimneystack connects to the roof.
Skylight Problems: Poorly installed skylights will leak rainwater around the edges of the unit. But it could also be a problem with the flashing around.
Seasonal Roof & Attic Leak Damage
Homes in the Greater Toronto Area can fall victim to roof and attic leaks any time of the year. But, with the seasonal conditions of Southern Ontario, certain weather conditions increase the likelihood that you will need attic roof leak repair or emergency roof repair.
Spring: Between March and June, rain is regularly forecasted and snow from the winter is simultaneously melting at a fast rate. Together, this leads to an influx in water that can seep into damaged roofs and infiltrate attics.
Spring & Fall: When the temperature changes quickly between hot and cold, the cities in the Greater Toronto Area tend to see high speed winds. With more wind storms and windier days in the past couple years, it's important for homeowners to keep an eye out for roof damage. It's not uncommon for wind storms to rip shingles off roofs or puncture roofing with debris. This type of damage creates vulnerabilities that provide an opportunity for leaks and water damage that require emergency leak repairs.
Winter: Infamous for damage, winter brings ice, hail, freezing rain, and snow to homeowners in the Greater Toronto Area. Freezing rain, ice, and snow are all very heavy, as these types of precipitation build up on the roof they can cause wear and tear to building materials and attic insulation.
To find out if you have any existing attic damage, or if you need attic roof leak repair in Toronto or the surrounding area, contact EcoComfort to schedule an attic inspection.
The Importantance of Repairing Your Attic and Roof Leaks
At EcoComfort Insulation & Contracting, roofs and attics are the specialty. Our in-house roofing experts offer professional repairs, tune-ups, and even full roof replacement. From structural damage, to missing shingles, to ventilation issues, we can do it all! Our people are experienced, and all work includes a complete labour warranty. What's most important is that we do it right the first time, with roof and attic leak repairs that stand the test of time, season after season. When you stop attic or roof leaks you can spare your attic insulation. In most cases wet attic insulation is no longer effective, reducing home comfort, increasing energy bills, and enabling mold.
Attic Inspections & Roof Leak Repair
To stop future attic roof leaks, you'll need to be able to identify the source of water. Usualy there is a damage to the roofing that allows water to enter the attic. In any attic, discovering the origin of a water leak is going to be difficult. Attics are hazardous and professional attic inspections are best handled by trusted and trained professionals.
Common sources of water leaks are:
the roof sheathing
the chimneystack
the attic vents
the HVAC ducting
Professionals understand how water behaves - they have the expertise to uncover the source of the leakage and explain why it's actually happening.
With EcoComfort, homeowners can rest assured that the source of leakage will be identified, and a solution will be at hand. EcoComfort does it all – shingle replacement and complete roof restoration. And because the roof and attic operate as a "system", there may be other elements to consider, like improving vapour barriers, retrofitting attic ventilation, and providing better air sealing. In short, EcoComfort finds a solution.
Expert Attic & Roof Leak Repair in the GTA
With attic and roof issues, it's better to make immediate repairs and avoid the need to get emergency repairs. In Toronto and throughout the GTA, EcoComfort provides expert roof leak repair and attic leak repair for a wide range of issues. EcoComfort Insulation & Contracting offers homeowners comprehensive roof inspections, fully warrantied roofing products, and guaranteed installation work. Our team of experts makes every effort to meet and exceed our customers' expectations.
EcoComfort Insulation & Contracting offers attic and roof leak repairs throughout the Greater Toronto Area. With high-quality roof inspections and fully warrantied products, every installation is guaranteed. Our people do their best to exceed customer expectations. For all your attic needs and emergency roof repair you can count on the attic experts at EcoComfort.