How Attic Insulation Affects Your Entire Roof Structure
Published on May 24, 2023
Attic insulation in Toronto is probably the most underrated housing upgrade in the city. Attic insulation is not easily visible and does not contribute to the aesthetic appeal of a property; however, it does so much to protect the integrity of your home and roof structure. A properly insulated attic will prevent attic roof leak repairs and any potential water damage associated with a roof leak. EcoComfort are attic experts who focus solely on ensuring our attics are in top shape to prevent leaks, decaying roof shingles and water damage.
Read on to learn how attic insulation affects your entire roof structure.
Attic Insulation Helps Prevent Attic Roof Leak Repairs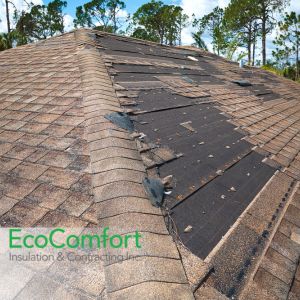 Poor attic insulation in Toronto plays a key role in the formation of ice dams. When your attic is not properly insulated, hot air can escape from the home to your roof. During the winter, the hot heat that escapes to the roof will melt snow and cause it to trickle to eaves troughs or the colder parts of the roof, where it will freeze again, blocking all other water from being able to escape. The blockage can lead to a roof leak, requiring attic roof leak repairs.
Attic Insulation Preserves Roof Structure
If moisture can accumulate in the attic, it can move onto your roof shingles, causing them to erode over time. When an attic is adequately insulated and ventilated, it protects from moisture consistently accessing the roof.
Roof rafters can also be sensitive to temperature changes, so if the attic's insulation is compromised, the rafters are exposed to these temperature fluctuations, which increases the risk of developing cracks. This will cause the roof to continue to wear down and potentially be exposed to the threat of water damage.
Water Damage & Home Insulation
Water damage is a property owner's worst nightmare, and rightfully so, as it requires costly repairs and introduces so many other issues to the property.
Once water damage occurs, even just small amounts of water are enough to cause a mold infestation. Mold can infect the air quality of your property and can cause illnesses.
Mold feeds on your property's materials, leading to rot and decay. It is a highly involved and complex process to restore properties after water damage and is often quite costly.
That's why it is in your best interest to ensure your attic is always insulated adequately so your roof can continue to work in top shape and protect your home from leaks, water damage and mold infestations.
EcoComfort for Attic Inspections
It is always recommended to have professionals inspect your attic and ensure it functions properly. EcoComfort are attic experts that can inspect your attic for any threats or assess the condition of your insulation. EcoComfort uses blown-in cellulose insulation to ensure attics are thoroughly insulated. If you believe your attic insulation is 15 years old or older, contact our leading insulation company in Toronto now for an inspection, and we can help you protect your home from roof leak repairs and water damage.