How Do Clogged Gutters Cause Attic Roof Leaks?
Published on November 11, 2022
Dirty gutters often get pushed to the back burner when it comes to property maintenance because they're a hassle to access and clearing them is often time-consuming. Unfortunately, if not addressed promptly, gutters can quickly become clogged causing damage to both the exterior and interior of your house, and interfering with the balance of your attic. Eventually clogged gutters leave homeowners in need of attic roof leak repair, mold remediation, and insulation upgrades.
To protect your home and insulation, keep your gutters clear and schedule an attic inspection to prevent trouble from breaching your property. If you've already experienced damage, don't worry; the experts at EcoComfort offer high-quality attic roof leak repairs, to restore health to your attic.
Continue reading to learn how clogged gutters can cause attic roof leaks.
How Do Gutters Become Clogged?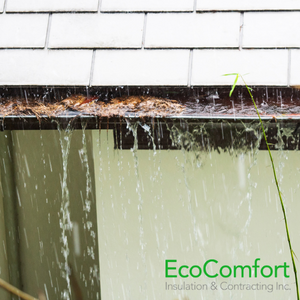 One task that should always be a priority on your to-do list is cleaning out the gutters. Your gutters facilitate the drainage of water away from your roof to prevent unwanted leaks or damage.
Leaves & Twigs: If your home is close to trees or greenery, there's a high chance your gutters will become clogged from leaves and twigs, especially in the fall. This type of backup gives mold, pests, and birds the perfect environment to thrive in, creating more issues.
Ice Damming: The roof's slope and the gutter's location play a significant role in water damage prevention, but the attic's condition is what tips the scale. If your attic is poorly insulated or ventilated, once snow lands on your roof, the attic will retain more warmth than an adequately ventilated attic, leading to snow thawing on the top. Most of the snow then freezes into ice, causing ice damming.
Poorly Designed Downspouts: Clogging also rapidly arises in gutters that aren't correctly angled toward the downspouts. If your downspout is poorly designed or installed incorrectly, debris will not be able to vacate the pipes as intended, leading to clogging.
Why Clogged Gutters Cause Attic Roof Leaks?
If your gutters are clogged and incapable of passing water through the spout, rainwater will back up on your roof until it becomes too heavy to handle. If left untreated, the cycle of water soaking onto your roof will cause an attic roof leak. Clogs or poorly installed gutters can also prevent rainfall drainage in your gutter system, making water seep into your home's fascia. Water exposure to your fascia leads to excessive moisture buildup and may appear as mold or water spots on your ceiling. Once water reaches your internal attic cavity, your indoor air quality and energy efficiency are all at risk. To detect a problem quickly, schedule an attic inspection as soon as you suspect a leak with the EcoComfort team.
The Importance of Attic Roof Leaks Repairs
Gutters play a major role in protecting your attic, roof, and house. They are designed to move water through the gutter trough, into the downspout, and away from your property. Without unclogged and well-performing gutters, water can percolate under shingles and leak through the ceiling or walls. Once your roof is compromised, the water can seep through gaps and crevices into your attic, causing problems like damaged attic insulation or mold growth. Damaged attic insulation and mold growth lead to poor ventilation, uneven temperature distribution, bad indoor air quality, air leaks, and skyrocketing energy costs, affecting your comfort, health, and home structure. At EcoComfort, we provide top-quality attic roof leak repairs and attic insulation services, so you can get back to living comfortably in no time.
Comprehensive Attic Inspections & Repairs
With decades of experience and a 100% satisfaction guaranteed track record, you can rely on the experts at EcoComfort to efficiently repair your attic roof leak and provide you with better energy efficiency.