How Does Attic Insulation Removal Work?
Published on October 04, 2019
Homeowners wondering about attic insulation removal usually have the same question – does my attic insulation need to be completely removed? The fact is, with residential attic insulation removal, it's not always necessary to remove all of the existing insulation completely.
Most attic insulations, particularly in older homes, will settle over the years and become less and less effective. While performance is definitely compromised, it doesn't mean that the insulation must be removed – especially if the materials are dry and free of any contamination.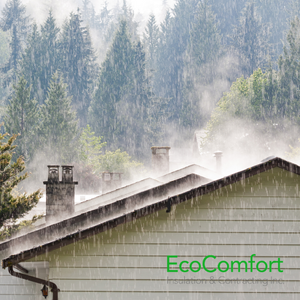 If your attic insulation is not water damaged or infested in any manner, you really don't need to remove the material. What's more important is to have the space professionally inspected and assessed, so that recommendations can be made for upgrading the existing insulation.
When you should remove your attic insulation
Homeowners considering the removal of attic insulation in Toronto should address a number of issues. To begin with, if there's been a serious roof leak or major condensation throughout the attic, your existing insulation may be waterlogged, and therefore a source of mold or mildew. Simply put, wet insulation material must be removed. If only a small area is affected, only that damaged portion should be removed. Rats, mice, and other critters can also damage insulation – and dramatically. Here, because of the hazards, complete insulation removal will be required.
If you're looking to remove attic insulation in Toronto, it's best to work with a professional. In some cases, there may be more required than just removal – disinfection may be required, some repairs may be needed, and certain retrofits may also be necessary (like added ventilation).
What to expect when removing common types of insulation
Although many homeowners might feel confident removing aging insulation from the attic, this is work that's best left to professionals. If you're already thinking about removing and re-installing attic insulation in Toronto, it's always better to do it right the first time, and likely with an expert.
Just as an example, you might want to remove blown-in cellulose insulation. Unless it's clean and uncontaminated, you wouldn't know if there were mold, or asbestos, or anything else hazardous. The professionals have the right tools, the special safety gear, and the expertise to handle it all.
Removing fiberglass insulation is even more challenging. Without proper handling, the fine glass fibres can be very risky – it's not uncommon to experience eye, lung, or skin irritation. Again, it's better to hire a professional, simply because a DIY approach poses many health and safety risks.
Whether you're removing fiberglass batts or blown cellulose, disposal will be required. The waste materials require specialized disposal, and this will add significant cost to your DIY project. Why not have it all done properly, from end to end, professionally, and with a long-term guarantee.
How to Remove Fibreglass Insulation from your Attic
By any definition, removing fiberglass insulation from the attic is burdensome, time consuming, and potentially dangerous. Even with some basic experience, and some extra help, this is a major undertaking. And with fibreglass, it's essential to have the right personal protective equipment.
When removing fibreglass attic insulation in Toronto, it's preferable to hire a company that has specific experience. They will have the right equipment, and will be prepared for pitfalls – and with fibreglass extra precaution must be taken when coming into contact with the materials.
Whether your attic has blown-in fibreglass or fibreglass batts, the waste materials will have to be disposed. This is not material that can be placed curbside. With a professional contractor, you're assured that all waste material is safely disposed (and according to local municipal bylaws).
How to Remove Blown-in Cellulose Insulation from your Attic
Removing blown cellulose insulation from the attic is tedious, messy, and dirty. The residual dust is pervasive and oftentimes spreads throughout the house. Although the dust isn't dangerous like fibreglass dust, facemasks are still required, and must be changed often as the work progresses.
To ensure work efficiency, removing blown cellulose requires an industrial, heavy-duty vacuum. In most cases, if you decide on a DIY approach, this equipment will have to be rented, along with heavy-duty disposal bags – big and durable. By any measure, this is very time consuming work.
For those homeowners intent on the do-it-yourself option, there are certainly dollar savings, but the bigger question is about better value. Beyond the hard work, messy environment, and health risk, it may be worthwhile to hand the work over to a professional and to make the investment.
Will removing insulation make my air quality better?
Air quality will only be improved throughout the home when old insulation is removed and new insulation installed. However, in addition to quality insulation, the attic must also be air sealed. With good quality insulation, appropriate air sealing, and ventilation, the system is complete.
If you're planning to remove your attic insulation in Toronto, removal and re-installation will not necessarily improve air quality. But if you're considering an attic insulation upgrade in Toronto, then it's worthwhile doing it right – with air sealing, and ductwork sealing, and good ventilation.
Looking to do an attic insulation upgrade in Toronto?
If you're ready for an attic insulation upgrade in Toronto, EcoComfort Insulation & Contracting can do it all - from safe removal, to professional repairs, to quality installation. While we do have a range of insulation products to choose from, we recommend blown-in cellulose for attics. With EcoComfort, you can always be sure of quality products and guaranteed installation work.
Attic insulation, like other home improvements, requires an expert touch. This is specialized work and requires a level of product expertise and installation proficiency. At EcoComfort, our specialty is attic insulation – we address specific project needs, we provide a viable project plan, and we take on the installation from start to finish. In short, we are focused on the best results.
Find out more by calling 416-333-4554 and arranging for your FREE home energy estimate. Our in-house experts will recommend a comprehensive with products that are guaranteed. Visit our website to learn more about our services.