How is the Summer Affecting Your Roof?
Published on June 03, 2022
With the city heating up, thoughts of winter and chilly temperatures are melting away. The summer season marks the end of ice damming and winter-induced leaks, which is certainly worth celebrating. However, just because winter is behind us, for now, doesn't mean that the weather won't affect your roof. Attic roof leak repair is often needed in summer and shouldn't be avoided because when the winter returns, it can strain your attic insulation and make problems worse. An attic inspection from the experts at EcoComfort will help you quickly identify any attic or roof vulnerabilities so you can protect your home.
Here's how you can prepare your roof and attic for the Summer weather.
Moisture & Humidity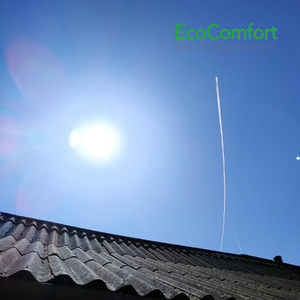 By July, humidity in the Greater Toronto Area ranges from 80% in the mornings to 53% in the afternoons. The muggy weather will typically last from June until September, leaving plenty of time for your moisture to collect between your shingles and vents. If there had been damage to your roof or attic vents prior to the summer, this humidity could result in water entering your attic. Attic and roof leak repair can help fortify the barrier between your roof and your attic, protecting your attic insulation and home comfort.
Direct Sunlight
The heat and energy of direct sunlight or the sun's ultraviolet rays are incredibly powerful. UV light can bleach, melt, and degrade all sorts of materials in its path, including your roofing too. Typically roofing materials are designed to withstand a couple decades of exposure but can quickly degrade after that point, especially when recovering from previous damage. The wear and tear of the sun can easily allow summer storms to infiltrate your home, leaving you in need of attic and roof leak repair. To learn if your attic has been compromised by a roof leak, contact EcoComfort for an attic inspection. Our experts will assess your attic, ventilation, and insulation to determine if you need any upgrades or repairs.
Hot & Cold Cycle
The daily hot and cold weather cycle can make roofs susceptible to thermal shock. This happens when your roof and building materials heat up quickly during the hot summer days but cools down quickly in the evening, once the sun sets. In the heat, roofing materials expand and in the cool, they retract, so drastically switching between high and low temperatures can lead to cracking and degradation of shingles and other roofing materials, causing reduced structural integrity and damage to the roof.
Why Attic Roof Leak Repair
When your roof is damaged, water and precipitation enter your attic. Water in your attic compromises attic insulation, which can cause several problems. As attic insulation becomes wet, its performance declines, making your home less energy-efficient and indoor climate control especially difficult. The harder your home's cooling and heating systems have to work to regulate temperature, the sooner they will break down or require maintenance, and your utility bills will continue to rise.
Additionally, water attracts mold spores to hot and dark attics, where outbreaks can contaminate your insulation, walls, and indoor air quality. Mold is known to induce mild to severe allergic symptoms in those exposed. To ensure your attic is free of mold or water damage, contact the EcoComfort team for a comprehensive attic inspection in the Greater Toronto Area.