How to Respond to Attic Mold in Toronto
Published on November 18, 2021
The attic is one of the most desirable environments for mold to grow, leaving many homeowners in need of professional attic mold remediation in Toronto. The entire space usually has high moisture levels – it's typically dark and still – and the mold has plenty of materials to feed on (including insulation). Unfortunately, the attic is entirely out-of-sight in most residential homes. So, mold can grow, flourish, and spread without even being noticed.
Mold growth in the attic, or any part of the home, is simply undesirable. And under certain conditions, some mold species can be harmful to humans. When signs of mold growth are suspected, it's time to consider professional attic mold removal. Homeowners who require expert attic mold remediation in Toronto can count on EcoComfort Insulation & Contracting.
Responding to Mold Infiltration in the Attic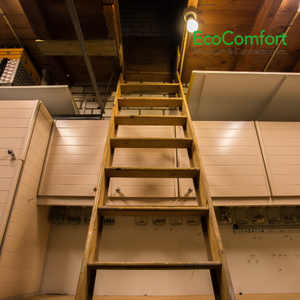 Mold is tricky, and because it's so well hidden throughout the attic, the infiltration is allowed to grow undisturbed. On the downside, this can go on for many years without noticing any visible signs. Without comprehensive attic mold removal outbreaks will often go undetected until they become considerably vast. But eventually, signs and symptoms emerge, and it's time to seek a professional remedy and resolution.
Identifying Mold in The Attic
It's best to identify mold growth at an early stage. This will naturally avert extensive damages. Once there are obvious signs of mold, the infiltration has likely established itself. There will be noticeable black stains on wood surfaces, drywall partitions, and even on the surface of attic insulation.
Expert Attic Mold Inspection
Attic inspections are recommended on an annual basis – it's a preventative approach to all kinds of issues, including mold growth. A good attic inspection will identify problem areas like mold at an early stage while assessing moisture conditions, air ventilation, and the condition of the insulation.
Attic Mold Remediation
Attic mold cannot be left to fester, and professional attic mold removal is eventually required. For attic mold remediation in Toronto, the technicians at EcoComfort Insulation & Contracting identify the mold deposit, determine the species, and effectively eradicate all remnants of mold and spores.
Addressing Causes of Mold
In general, a mold problem is a moisture problem – and this is frequently the primary cause of mold growth. High attic moisture levels can be caused by insufficient air ventilation or water leaks in the roof and attic. Either way, these issues must be resolved to prevent any recurrence of mold growth.
Upgrading Attic Insulation
In the attic, professional installers recommend insulation upgrades using blown-in cellulose. The finished installation provides an effective "envelope" that contributes to moisture control. With proper air sealing and efficient air ventilation, the "system" works well in preventing the growth of mold.
Upgrading Insulation with Blown-In Cellulose
Throughout the Greater Toronto Area, EcoComfort Insulation & Contracting provides customers with a range of professional services. Our in-house team of experts does it all, including attic inspections, insulation removal, mold remediation, and re-installation of new insulation material. When it comes to attic mold, we start with a thorough inspection and recommend an action plan for safe and effective waste removal. We also recommend necessary repairs and options for upgrading to new insulation.