How to Stop Attic Roof Leaks in Snowy Weather
Published on January 26, 2023
Increased snowfall and temperature drops leave many homeowners dealing with attic roof leaks. The worse leaks are, the more water and humidity enter the attic cavity, damaging your insulation and other critical building materials in your attic. This winter, end your attic leaks with attic roof leak repair from a top insulation company in Toronto. Effective attic roof leak repair means less stress, better attic functionality, and a more comfortable home.
Here's what you need to know about attic roof leaks in the winter.
Causes of Attic Roof Leaks in the Winter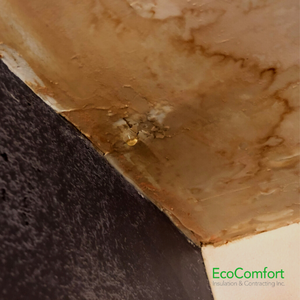 Two primary causes of attic roof leaks in the winter are heavy snowfall and ice damming. With heavy snowfall on your roof building up, the warm air from your home will cause the snow to melt and potentially seep into your attic. Heavy snowfall isn't uncommon in the Greater Toronto Area, and neither are attic leaks. This winter, keep an eye on your attic when there's a snowstorm in the forecast.
Ice damming is another factor to look out for this winter. Ice damming occurs when the heat from your attic warms your roof, and the snow melts and pools along your eaves. However, once the melted snow is on the edge of your roof, it doesn't have the heat source from your attic, and it freezes, forming a dam. When an ice dam forms on the roof's edge, it prevents the snow from draining properly, causing water buildup on your roof, ultimately leading to a leak in your attic.
How to Stop Attic Roof Leaks
To stop leaks, the first order of business should be to conduct attic roof leak repair. Attic roof leak repair from a specialized company, like EcoComfort, will effectively fix any leaks in your attic and how you can prevent them in the future. Following restoration, you should improve attic ventilation; attic ventilation plays an integral part in keeping your roof in good condition and ensuring optimal insulation performance. In addition, you should upgrade your attic insulation to keep leaks at a minimum. For effective and full coverage insulation, contact an insulation company in Toronto, like EcoComfort, to upgrade your attic insulation to blown-in insulation. Blown-in insulation keeps the heat in your home, so the chance of snow melting or ice damming will be lower.
How to Restore Your Attic After Leaks
After attic roof leak repair has been conducted, there are a few measures you can implement to ensure your attic's functionality. Since the moisture in your attic has increased with a leak, there's a high possibility of mold infestations. Following a leak — and a possible infestation — your attic insulation is likely damaged, so upgrading your attic insulation should be at the top of your to-do list. Blown-in insulation from EcoComfort is a long-lasting, durable insulation that will cover every crevice of your attic, ensuring that your attic is adequately sealed and ventilated.
Finding the Best Attic Leak Repair & Insulation Services
To ensure that your home has comfortable, consistent temperatures, and that your attic is free of leaks, choose EcoComfort, where we specialize in attic insulation upgrades, attic mold remediation, and attic roof leak repair services. To find if you need our reliable attic services in the Greater Toronto Area, book an attic inspection.