Is Attic Insulation in Toronto the Reason Your Home Won
Published on February 17, 2023
Are you and your home suffering from the cold during our long, harsh winters? Drafts and difficulty maintaining comfortable indoor temperatures during the winter months may indicate a problem with your attic insulation in Toronto. When homes and attics get too cold, it can lead to trouble, such as freezing pipes and mould growth due to improperly ventilated or insulated attics because of condensation due to fluctuating temperatures. Contact Call EcoComfort, the leading attic insulation company in Toronto, to find out if your insulation is why your home won't stay warm.
To fight the effects of damaged or underinsulated attics, read our blog and learn how our team of attic experts can help.
Signs You Need New Attic Insulation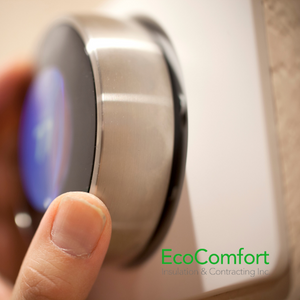 There are several signs that you need new attic insulation; your energy bills are soaring beyond the ever-increasing cost of heating your home, you have a furnace and/or air conditioner that sounds like it is constantly working overtime or may even be damaged before it's time, and you feel a draft in one or more of the rooms of your home. To confirm whether your insulation is at fault, schedule an attic inspection with EcoComfort. By contacting an insulation company in Toronto, homeowners considering upgrades to their attic insulation in Toronto can identify the source of the problem and make strategic upgrades that last for many years.
Reasons Your Attic Insulation Isn't Performing
On average most types of attic insulation installed by builders only last about 10-20 years, But in some cases, insulation may deteriorate or stop performing sooner. One common cause of poorly performing attics is insufficient insulation, in which homeowners may require a blown-in cellulose insulation top-up. We at EcoComfort have the tools, the experience, and the know-how to check if your attic is in need of more or just better insulation - the right amount of insulation is vital to keeping your home warm (and keeping that warmth where it belongs - in your home) in Toronto's harsh winters, and that will keep those heating bills down. Another reason it may not perform is that the current insulation may be damaged over time or from poor installation or conditions in the attic. Other causes for damaged insulation include damage due to water penetration, pest infestation, or mould contamination.
Improving Insulation Performance
Improving the performance of your insulation is an option in many cases - call EcoComfort to schedule an attic inspection, the insulation company in Toronto to call, day or night. We can inspect any type and size of the attic, and we have the trained staff to do it safely and with consideration to your schedule. Our insulation specialists can repair deficiencies where possible, such as mould remediation, upgrading ventilation, or topping up existing insulation. Properly sealing holes, cracks, and crevices in an attic will effectively stop air leakage, ensuring that the home's HVAC system will operate in better balance, extending or keeping the system's life in line where you want it to be.
Benefits Of Upgrading To Blown In Cellulose Insulation
Blown-in cellulose attic insulation upgrades with EcoComfort will enhance your attic functionality and improve your indoor air comfort, keeping contaminants out of your home and protecting the longevity of your HVAC appliances.
Whatever your choice, new and upgraded insulation, or simply improving what you have, give EcoComfort a call in Toronto and the surrounding areas.