Reducing Summer Heat & Humidity in the Home in Toronto
Published on August 21, 2018
If you live just about anywhere in the northern hemisphere, it's likely you've experienced a hotter than usual summer and it's been a challenge to reduce summer humidity in your home. In Ontario, a long humid summer with few rainstorms to provide relief has certainly meant that many folks - us included - have left the air conditioning running all summer long to help create a comfortable indoor environment.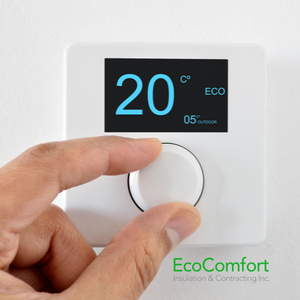 There are three key components to healthy indoor air: freshness, cleanliness, and proper humidity. Humidity is often the forgotten element in healthy indoor air - funky smells, stale air, and airborne pollutants usually get all the press, but humidity is a key player in helping to prevent these more noticeable problems, making it important to reduce summer humidity in your home to maintain a comfortable indoor environment
Why Should I Be Worried About Humidity?
When talking about indoor air quality, the term relative humidity is used to describe how much water vapour is in the air. When the air is warm, such as during the summer months, more moisture can vaporize and become airborne, where it can easily travel or collect in different parts of the home. When the number is low (such as 0% humidity), the air is usually described as being very dry - think of a desert. When the relative humidity is at 100%, that means that the air is so moist that mist or dew could begin to form on solid surfaces.
Other than being uncomfortable, high humidity in your home can be a warning sign for a number of issues, such as mold growth, and can adversely affect your health.
Today on the blog we're listening a number of ways you can reduce reduce summer humidity in your home to help you achieve a more comfortable and safe indoor environment.
Tips to Help Reduce Summer Humidity in Your Home
1. Ensure you have good ventilation: It's easy to reduce summer humidity in your home if you have fans moving the air around or removing humid air from key places such as the bathroom and kitchen. A big problem in the summer months is that humid outdoor air is entering your home at the same time humid air is being created through everyday activities like cooking, bathing and washing. Having exhaust fans above the stove or by the shower can help whisk newly created humid air out of your home, and running your HVAC fan can keep stagnant air moving.
2. Run your air conditioner: Your air conditioner is your number one tool in reducing indoor humidity. Cold air simply can't hold as much water as warm air can, and by running your air conditioner, you're creating conditions unfavourable to humidity while also removing existing humidity.
3. Run a dehumidifier: Some rooms in the house are naturally more humid, like the basement, where it might help to reduce summer humidity in your home by running a dehumidifier. Dehumidifiers run best in a confined space and always have a condensation pan that must be regularly emptied.
4. Attic insulation: It might sound counterintuitive, but one long term way to help reduce summer humidity in your home is by replacing or adding to your attic insulation. Humidity control and insulation are closely related: by reducing your indoor humidity, you help to increase the efficacy of your insulation, and by improving your insulation, you reduce the humidity present in your home.
Taking a Closer Look at Insulation
At EcoComfort, our specialization is in providing the best insulation to homeowners in Southern Ontario. One way we do this is by offering attic insulation services all year round. Many people aren't aware of the role insulation plays in the summer months, but just as we wear a coat in the winter to keep warm, a layer to prevent the sun from hitting our skin can have a big impact in helping us keep cool during the summer.
Insulation works by slowing heat transfer, which in the summer months is coming from the exterior of our homes instead of the interior. Insulation in your attic is like wearing a sun hat - the roof and attic receive the brunt of the sun's heat and force during the long summer days, and attic insulation can help prevent that heat from transferring into our indoor environments and causing our air conditioners to work overtime.
Insulation can help reduce summer humidity in your home, but it also:
Helps reduce your utility costs by reducing the number of hours you need to run your air conditioner
Makes it easier to regulate your indoor temperature all year long
Reduces drafts, hot and cold spots
Leads to better energy efficiency
Adds soundproofing capabilities
By using insulation to reduce humidity, you also reduce the likelihood of:
Mold growth
Condensation
Damage to insulation or building materials
Ask The Right Questions
If you've noticed an excess of humidity in your home this summer, it might be time to look into installing new attic insulation. While fans, dehumidifiers, and air conditioners can all have positive short term effects, the only effective way to ensure long term comfort and to reduce summer humidity in your home is to improve the insulation in your home.
The insulation experts at EcoComfort would be happy to answer any questions you may have about insulation and its effect on your home year round - for more information on how to reduce summer humidity in your home, please get in touch.