What Happens When Bathroom Fans Discharge into the Attic?
Published on December 21, 2021
When a bathroom fan falters, discharging moist air into the attic, excess moisture will quickly accumulate. It's an ideal environment for mold to grow, and it goes unnoticed more often than not. As a preventive measure, a thorough attic inspection can determine if moisture levels are higher than they should be. More than that, when high moisture levels are identified, corrective measures can be taken.
On the downside, if an attic inspection determines that mold has already infiltrated the attic because of bathroom fan discharge, there may be a need for professional attic mold remediation. The fact is, bathroom vents should be vented to the outdoors. It makes sense, and it's the best way to ensure that excessive amounts of air moisture do not accumulate, however this is not always the case. Some regions actually require this in the building code to avoid the need for attic mold remediation and protect indoor air quality.
One reason NOT to discharge a bathroom vent into the attic is the potential for condensation. When warm, humid air from the bathroom wafts into the attic, condensation can occur, and mold can grow. This situation needs to be rectified by ensuring that all indoor exhaust fans effectively vent to the outdoors. The hassle and expense of remediation can be avoided.
The Role of The Bathroom Exhaust Fan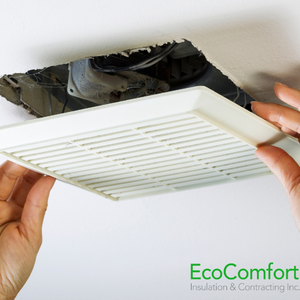 A bathroom exhaust fan is a ventilating device that mechanically exhausts indoor air to the outdoors. A ceiling vent fan, for example, exhausts air moisture from the bathroom and prevents the accumulation of warm, humid air. Venting outdoors prevents excess moisture from ending up in the attic cavity.
Conditions That Lead to Attic Mold
Mold problems are essentially moisture problems. So, if there isn't any moisture, there isn't any mold. Excessive air moisture in the attic can be caused by a number of factors – improper exhaust coming from the bathroom – blocked or inadequate ventilation – even poor ventilation throughout the attic.
What To Do About Attic Mold Growth
With any mold infiltration, it's critical to remedy the moisture problem that initially caused the mold problem. An expert attic inspection will identify problem areas, while professional attic mold remediation will ensure that all remnants of mold are removed without any chance of recurrence.
Attic Mold Removal and Upgrades
Attic mold removal and disposal should be undertaken by a qualified mold technician. This is not a DIY project for a homeowner who has little or no experience. A professional will also advise of any retrofits or upgrades that may be necessary and will recommend options for preventing mold infiltration.
Call the Experts at EcoComfort Insulation & Contracting
At EcoComfort Insulation & Contracting, we do it all – expert attic inspections – professional mold removal – attic ventilation upgrades – and re-installation of new attic insulation. When it comes to attic mold removal, we guarantee the safe and effective elimination of all mold and mold spores. EcoComfort also provides insulation upgrades to make your home more energy-efficient and less likely to promote mold. We install only the highest quality materials – safe, chemical-free, and Canadian-approved. Best of all, everything we do is guaranteed to ensure customer satisfaction.
Schedule an attic inspection in Toronto or elsewhere in the GTA today to get of moisture or mold in your attic.