What is the Best Attic Insulation for Ontario Homes?
Published on January 30, 2023
Attic insulation is a crucial player in a home's energy efficiency. The best attic insulation in Toronto will deliver long-lasting thermal insulation that helps protect your indoor environment from drafts, contaminants, and many other problems. Unfortunately, most homes in the Toronto area will age out of their insulation within 20 years or less, depending on the infestation exposure. For the best insulation upgrade, choose EcoComfort, a leading insulation company in Toronto, to assess your attic needs and help facilitate your switch to blown-in insulation.
Read on to learn more about finding the best attic insulation in Toronto for your property.
Mold-Resistant Attic Insulation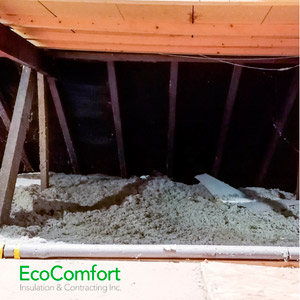 Attic insulation in Toronto should be mold-resistant. Mold spores and infestations are prone to residential attic and roof cavities because of the surplus of humidity and organic matter. Blown-in cellulose insulation from EcoComfort is treated to prevent mold from festering and deteriorating, ultimately preserving the longevity of your insulation and your investment in insulation.
Fire-Resistant Attic Insulation
Attics are often hazardous environments. As such, they are no strangers to fires. In fact, they are often the leading location of house fires. Choosing high-quality attic insulation in Toronto can minimize the risk of flames in your attic, preserving your property and protecting the people who live in it. The best blown-in cellulose insulation is engineered to prevent fires and spare your attic as well as your entire home.
Installation Time
When your attic insulation in Toronto starts to become depleted, restoring it with an insulation top-up or a brand-new upgrade is a relatively urgent matter. When your attic insulation stops performing, it costs you more on your utilities and even maintenance on your essential home appliances. Choosing an insulation company in Toronto that can install a high-quality product in a short period of time is key. EcoComfort is a supplier and installer of premium blown-in insulation that can be added to your attic in about a day. To find out if you need new insulation or attic insulation removal, schedule an attic inspection in Toronto with the experts at EcoComfort.
R-Value
R-value is a metric used to convey an insulation material's thermal resistance or efficacy as an insulator. The higher the R-Value, the more energy-efficient your attic insulation will be. Blown-in insulation has a suitable r-value for residential properties giving homeowners the long-lasting thermal insulation they require.
Sustainable Insulation Materials
With more and more attention being directed towards the health of the earth and green choices, choosing sustainable insulation for your home is an effective way to reduce your ecological footprint. Not only will an energy-efficient home reduce your carbon footprint from energy waste, but blown-in cellulose insulation also repurposes and recycles newspaper and other cellulose materials in insulation.
Why Choose EcoComfort for Attic Insulation?
When the time comes to upgrade your attic insulation, choose the insulation company in Toronto that offers expert services with high-quality materials. Our teams are experts at attic inspections and insulation upgrades. With fast responses and installation times, you can count on high-quality results.