What to Do When Your House Just Won't Get Warm
Published on February 22, 2022
On frigid winter days, and especially with ultra-cold temperatures, some homes feel like they are just impossible to warm. Often, homeowners will turn on a fireplace, space heater, or other heating devices just to supplement the HVAC system. In identifying home heating problems, underperforming attic insulation is often a good place to start, at which time a professional attic inspection can be helpful. In one of the worst-case scenarios, attic mold remediation might be required.
Professionals typically point to attic insulation when homeowners find it hard to heat their homes. In fact, over the years, it's not uncommon for attic insulation to lose its integrity and, therefore, its capacity to insulate. It may be time for replacement.
Attic Insulation & Cold Homes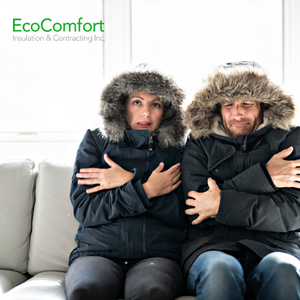 In a typical residential home, the attic provides a protective barrier to keep indoor heated air from escaping. This is accomplished with attic insulation that provides the barrier but also controls humidity and moisture. Needless to say, the insulation product must perform.Underperforming attic insulation can be costly, because the heat generated by the HVAC system is lost and wasted. To ensure that the insulation is doing its job, an attic inspection can quickly determine if the quality of the materials and the installation are satisfactory. Attic inspections will also identify any contaminants or problems interfering with performance, like outbreaks and pests. With EcoComofort you can rectify all of these problems including attic mold remediation.
Signs Your Insulation Needs an Inspection
Every homeowner should be able to recognize the signs of poorly performing insulation. In some cases, the signs will be obvious, but whatever the case, understanding the signs is the first step in taking appropriate action to remedy the situation. There may be temperature variations in different parts of the home. Interior walls and floors may be cold to the touch. There may be high humidity levels (and even signs of mold). There may even be ice forming on the gutters and roof vents.
Improve Heat Retention with an Attic Insulation Upgrade
When a home is well-insulated, warm indoor air is less likely to escape. It means that less energy is being used by the HVAC system, and therefore energy costs are reduced. In fact, quality attic insulation can reduce annual heating bills by up to 20%. Because heat has a tendency to rise, insulating the attic is one of the more important projects. With proper air sealing and ventilation, high-quality insulation provides both seasonal comfort and energy efficiency – a great combination for the money.
Identify Problems with an expert Attic Inspection
A professional attic inspection will easily identify if there are insulation problems in the attic. There may be deteriorating materials, there may be air leaks, or there may be mold growth (at which time attic mold remediation may be needed). Any of these will require a remedy. Because the attic is out of sight for most homeowners, problems will also be out of sight. That's why an expert attic inspection is essential in identifying potential issues (and hopefully at an early stage). More than that, the inspection sets the stage for making appropriate upgrades.

Schedule an attic inspection in Toronto and the GTA to learn how you can save on your energy costs.