What's Causing Winter Attic and Roof Leaks?
Published on January 04, 2022
Attic and roof leaks are troublesome at any time of year, but in winter, things can be more complicated. The main problem is that winter roof leaks are, more often than not, difficult to detect at an early stage because the attic and roof cavity is out of sight. It means that attic and roof leak repair (especially winter roof repair) may be required once problems have already developed.
Attic and roof leaks are caused by a variety of factors. And while preventive maintenance may help from season to season, sometimes leaks are just beyond our control. When it comes to attic and roof leaks, damage can develop in various ways. For example, attic insulation could be compromised, structural damage can arise, and mold can grow and spread throughout the space.
Ice Damming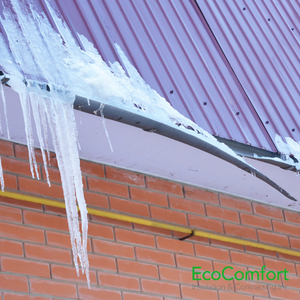 One of the leading reasons homeowners require winter roof repair is ice damming. When ice builds up in the eavestrough, it can be destructive to the roof. Amongst other things, the eaves begin to pull away from the edge of the roof, potentially causing water to leak into the attic. When eaves, gutters, and downspouts are poorly maintained, ice damming is a natural consequence, and attic/roof leaks can ensue as soon as the ice begins to melt.
Storm Damage
Over time, winter storms can have a negative effect on the seams of a roof. When damaged, these seams are susceptible to water infiltration that leads to attic leaks. In winter, constant freezing and thawing allow for water runoff that results in water accumulation requiring professional attic and roof leak repair services. It's essential to repair the source of the water leak and any additional damages.
Mold Infiltration
Whether there's ice damming or inadequate attic ventilation, excessive moisture in the attic is a recipe for mold growth. In fact, wet insulation or waterlogged drywall is the perfect environment for mold to thrive. A mold infiltration can be pretty damaging, including physical damage, structural damage, and even threatening the health and well-being of occupants.
Heavy Snowfall
When snow builds up on a roof, there's a tendency for it to melt because the attic cavity is warmer than the outside air. This can cause water to pool and then seep into the attic space. If this situation is left undiscovered, the water leak can cause all kinds of damage. This might include damage to the installed installation and much of the roofing materials.
Animal Pests
Squirrels, birds, and rodents often occupy attics in order to create living spaces that are warm and comfortable throughout the winter. These pests can damage shingles and air vents, thus allowing rainwater and melting snow to enter the attic. Here again, all types of damage can develop, and the repair work can be substantial and sometimes costly.
Professional Attic and Roof Repairs
Keeping the attic and roof cavity in good repair will ensure long-term performance. To avoid winter surprises, a professional attic inspection is the ideal preventive measure. With good attic ventilation and quality insulation, the attic can sustain even through the most extreme winter weather. But when roof leak repair (and winter roof repair) is required, homeowners can count on the experts at EcoComfort Insulation and Contracting.
For a comprehensive attic inspection in Toronto and the surrounding areas, the attic experts at EcoComfort can help.
Contact our team to learn more about our services.