4 Step to Prepare Attic Insulation in Mississauga for Winter
Published on November 16, 2021
With the extremes of winter weather in Mississauga, high-quality attic insulation will prove its worth and value from season to season. On the flip side, an improperly insulated attic will definitely affect the home negatively in winter and summer. Homeowners considering upgrades to attic insulation in Mississauga will benefit immediately with enhanced home comfort and significant dollar savings on heating (and cooling) bills.
With heating costs ever rising year after year, it's wise to prepare for winter with a plan to improve insulation, especially if the existing insulation hasn't been attended to recently. When it comes to attic insulation cost, this is an investment with an excellent return on investment. In fact, when the attic and roof cavity are effectively sealed, properly insulated, and well ventilated, the dollar savings on heating (and air conditioning) can potentially offset the initial cost of the entire project.
Arranging for a Professional Attic Inspection in Mississauga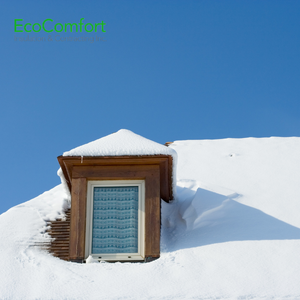 Before the extremes of winter weather arrive, it's a good idea to arrange for an attic inspection. The idea is to identify specific performance issues in the attic, including insulation, airtightness, and ventilation. More importantly, a good attic inspection will pinpoint problems at a very early stage. With attic insulation in Mississauga, for instance, a professional inspection can quickly detect any deteriorating materials, as well as mold growth, and even animal contamination.
Properly Sealing Holes, Cracks, and Crevices
Air leakage in the attic will negatively compromise insulation performance. But with an in-depth attic inspection, air sealing remedies can be recommended to effectively seal all of the holes, cracks, and crevices. Once the attic is properly air sealed, the installed insulation will perform better, and the home's HVAC system will operate in better balance. Winter and summer, it all adds up to significant savings on heating and air conditioning costs offseting the attic insulation cost.
Clearing the Roof Gutters and Leftover Debris
The problem with roof gutters and leftover debris is that they trap water – and standing water will eventually break down roofing materials. The result – water leaking into the attic. This is totally preventable with some regular roof maintenance, including regular clearing of the gutters and removing leaves, pine needles, and animal residue from the roof. In most cases, this type of regular maintenance is best left to professionals with experience.
Upgrading Attic Insulation Before the Winter
When it comes to upgrading attic insulation in Mississauga, EcoComfort Insulation and Contracting can provide full service from end to end. We install the highest quality insulation products and ensure a superior installation every time. For homeowners in Mississauga and throughout the GTA, we offer professional attic inspections, comprehensive insulation removal, and expert installation of quality products like blown-in insulation.
The Benefits of Blown-In Cellulose Insulation
Blown-in cellulose is a cost-effective insulation product that improves energy efficiency while reducing a home's carbon footprint. The product is particularly well suited in the attic space and provides satisfactory R-Values, along with long-term performance. When considering attic insulation cost, blown-in cellulose provides an excellent return-on-investment, with noticeable dollar savings on winter heating and summer air conditioning.
Call EcoComfort today to get your attic insulation ready for winter in Mississauga and the GTA.