5 Signs of Poor Attic Ventilation
Published on February 26, 2018
How do you know if you have poor attic ventilation? The effects of a badly ventilated or problematic attic are often difficult for a homeowner to identify, because a lack of ventilation can manifest itself in many different ways throughout your home. Do you find yourself melting in the summer time and freezing in the winter - only to find a high utility bill at the end of the month? Do your rooms have drafts or inconsistent temperatures? If so, it might be poor attic ventilation that is causing these problems.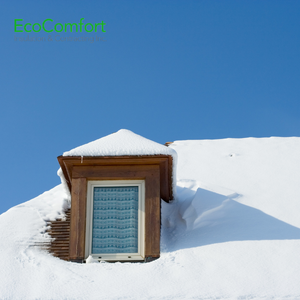 A home with poor attic ventilation isn't performing at its best. An attic that has proper air flow allows warm air and moisture to escape while allowing fresh air from soffit vents to enter. This lessens the load on your air conditioner or HVAC system and prevents moisture related damage.
Sign #1 - HVAC Wear and Tear
The first sign that your home may be suffering from poor attic ventilation is that your furnace or air conditioner need frequent maintenance, repair, or replacement. When an attic isn't doing its job, your HVAC units need to work double time to keep your home comfortable, and this cumulative stress can result in more repairs and higher monthly heating and cooling bills.
Sign #2 - Roof Damage
Your home relies on the sum of its parts to keep working efficiently and in good repair. A problematic roof might indicate problems related to the attic.
Saggy or spongy decking results when moisture seeps into the roof decking. That unwanted moisture dissolves and damages the adhesives that hold it together, causing it to sag and warp.
A shortened life span is often a sign of poor attic ventilation because excess heat and moisture from below can cause your roof decking to dry rot, which affects the performance of your shingles and underlayment.
Rust can appear in your attic when there is moisture present. Nails, fasteners, and other metal objects in your attic can rust away until they're weak and liable to break and cause damage.
Sign #3 - Mold and Mildew
Mold is something every homeowner should seek to avoid - it can be difficult to get rid of once it spreads and takes hold, and unfortunately, an poorly ventilated attic with a humid atmosphere is the perfect location for mold and mildew to grow. Mold needs an organic material to grow on, and the attic is full of ideal food, even if you don't store furniture or papers in it - wooden studs, beams, paper, and rafters are also places where mold damages. Mold does more than just harm your home's structure, it can also seriously compromise your health, causing respiratory problems, allergies, and in severe cases, visits to the local ER.
Sign #4 - Ice Dams
Ice dams are thick ridges of ice that can form along a roof's edge, especially where debris catches in the eaves. This dam prevents snow from melting off the roof and can result in a great deal of moisture backing up onto your roof. Ice often builds up on a roof when inadequate ventilation and insulation cause an overly warm attic - heat melts the snow on your roof which refreezes in the gutters. Ice dams can cause extensive roof damage to more than just your shingles, and a roofer should be contacted if you notice them forming.
Sign #5 - Insulation
The key to reducing attic problems is often improved insulation installed alongside better ventilation. Insulation can't perform if it's moist or warm - it can clump or flatten, which reduces its ability to effectively prevent heat transfer. New ventilation works alongside to control moisture and temperature and ensures that your attic is operating smoothly.
The best home improvement that you can do is to properly ventilate your attic, because it has cumulative, house-wide effects, allowing your insulation to perform well, saving you money on home heating and cooling, and preventing mold, mildew, and damage to your roof and eaves. Get in touch with us at EcoComfort if you suspect you have poor attic ventilation for more information on what we can do to help improve your home.