Benefits of Fire-Resistant Attic Insulation Toronto
Published on September 20, 2023
The home safety and fire resistance of attic insulation is another frequent concern faced by homeowners in Toronto and throughout the Greater Toronto Area. Blown-in insulation is made up of a significant portion of post-consumer recycled paper. At EcoComfort Insulators, a leading insulation company in Toronto, our cellulose insulation is treated to offer superior fire protection and mitigate the risk of attic fires.
Benefits of Fireproof Attic Insulation in Toronto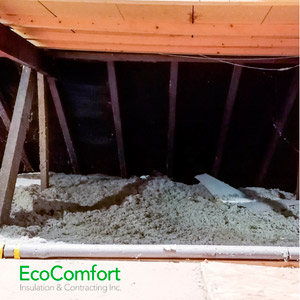 Fire resistance is one of the significant benefits of installing blown-in cellulose attic insulation. Cellulose insulation is installed as a loose-fill insulation that is shredded into many small pieces and blown into the attic through a hose by insulation experts. These pieces help to insulate your home by creating an air barrier between the conditioned and unconditioned places. Cellulose is also treated with borates, a naturally occurring safe chemical that increases fire and insect resistance. Together with cellulose's density, these three factors help to restrict the amount of oxygen available in the event of a fire - if there's no oxygen, the flames will burn down and out. This is why cellulose blown-in insulation does so well in fire demonstration tests since it actually helps to stop fires from spreading, offering up to 50% more resistance than comparable materials.
Other Benefits of Blown-In Insulation
Improving your Home's Energy Efficiency: One of the best reasons to insulate your home this year is that it can help you save a ton of money on your home heating and cooling costs. Insulation works all year round to help you stop conditioned air from leaking out and outside air from coming in. In a space like an attic, which often has a similar footprint to your home, the coverage of blown-in cellulose insulation is absolute, filling all the cracks and crevices that cause air leakage.Quiet & Peaceful Environment: Blown-in cellulose insulation also helps to dampen the sound coming from both the inside and outside of your home, helping give you a more relaxing and peaceful home environment. This is especially useful when you have living areas adjacent to the attic or live in a townhouse with neighbours close by.
Quick & Easy Installation: We know you're busy - which is why cellulose blown-in insulation is a great fit for your lifestyle. In most instances, a professional installation takes only a few hours and can be done with small teams. This lowers your installation costs and helps you get back to your day.
Thorough Coverage: Insulation isn't effective when it doesn't cover 100% of your attic - the uninsulated spaces act like a magnet for warm and cold air. Blown-in cellulose insulation does a great job of offering comprehensive coverage that ensures no gaps remain after installation, especially over support cross beams, wiring, plumbing pipes, and ductwork.
Energy Savings All Year Long: Insulation isn't just about protecting your home in the winter. During the summer, it helps to keep your home cool as well! Insulation is an air barrier that separates conditioned and unconditioned air, which allows you to reduce your energy consumption and save on your monthly energy costs.
Long-Term Benefits: When it comes to home renovation projects, cellulose insulation always stays in style. A professional installation can last somewhere in the range of 80 years, offering your home decades of energy efficiency and a better-balanced HVAC system.
Cost-Effective: In the long term, it's a highly cost-effective application that delivers excellent performance and a good return on investment. Our professional approach ensures that you get the best performance from your new product and that installation is to code, safe, and thorough.
Upgrade Your Attic Insulation with EcoComfort.