Blown in Insulation Will Improve Your Heating & Cooling System
Published on October 08, 2018
The key to having a comfortable indoor environment is having good insulation. Blown in insulation will improve your heating and cooling system and bring better energy efficiency and a more stable indoor temperature to your home. Insulation is so important to your home, because it affects so many of the moving parts that keep your home healthy and comfortable on a daily basis.
What is Blown in Insulation?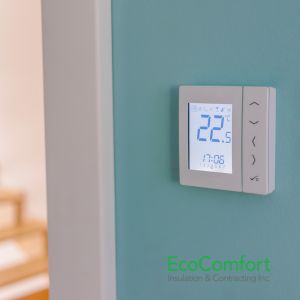 Before you can understand how blown in insulation will improve your heating and cooling system, it's important to know what attic insulation actually is. Most homeowners are familiar with batt style insulation - it comes in puffy, often pink, rectangular batts that resemble cotton candy. While this insulation is great in some applications, blown in insulation will improve your heating and cooling system more effectively and thoroughly, which is why we recommend it.
There are two main types of blown in insulation. Both are made up of small pieces of cellulose and fibreglass. To understand why it's so effective as an insulation material, it's easiest to compare blown in insulation to packing peanuts - the small pieces settle and fill in around the shapes of your home to provide thorough and continuous coverage, just as packing peanuts protect a shipment.
Cellulose blown in insulation is a popular product for good reasons. Not only is it inexpensive, it provides excellent R Values, is made from recycled paper products (making it an excellent eco-friendly option), isn't treated with asbestos, formaldehyde or other toxic chemicals, and is long lasting and mold resistant. Fibreglass is made of spun glass, when in ideal conditions, fibreglass won't break down or deteriorate over time. It repels bugs and pests, has no odour, and is mold resistant. While fibreglass is a great insulation type, cellulose is the better perfoming option and favoured among homeowners.
How Will it Improve My Home's Performance?
How blown in insulation affects your home's overall performance is easy to explain, even if you don't know a thing about insulation. That's because its major benefit isn't to do with the materials you choose, it's about what happens after you install it. Blown in insulation's biggest benefit is that it is a cost effective way to improve your home's energy efficiency, which we know is one of the top concerns among our clients, especially those living in older homes. It also helps to keep your temperature regulated, control smell and noise, and can help keep you warmer in the winter and cooler in the summer.
Places blown in insulation works especially well in are:
Attics
Walls (it can be installed by drilling small holes between the studs - reducing the need to take any walls down!)
Floors
How Will It Improve my Heating and Cooling System?
Blown in insulation will improve your heating and cooling system in a number of ways that may or may not be obvious in your day-to-day life. Making even small improvements to your insulation has a BIG effect on how heat moves around your home.
Heat is always on the move and wants to flow into colder areas, travelling through one of three ways: conduction, convection, or radiation. Insulation is what helps prevent this movement, whether it is external heat (such as in the summer) or internally created heat. If you home is under-insulated, you won't be able to retain the heat you create when you crank on the furnace (or, during the summer months, dial up the AC), and that can get costly. Some figures estimate that up to 20% of your home's heating can be lost through leakage, which can be like paying for an extra month's worth of utility bills each year.
Blown in insulation will improve your heating and cooling system by blocking those cracks and gaps that air is passing through. Once these air leaks stop, your furnace doesn't need to run as frequently to keep up with your thermostat, reducing your energy consumption and saving you money on your monthly bills.
One thing to pay attention to when choosing insulation is R-Value. While it may sound confusing, R Value is the amount of heat resistance an insulation product can provide - the higher the number, the better it'll be at resisting heat flow. International and American measurements differ - do ensure you're reading the right number when choosing a product to make sure you're getting the results you need.
However, while blown in insulation will improve your heating and cooling system, some of its performance depends on a number of different factors, such as climate, type of heating system, what part of the home you're installing, and the environmental friendliness of the product. At EcoComfort, we'll work closely with you to choose the product that best suits the needs of your home so that, regardless of the space you're working on, you'll experience tangible improvements to your indoor environment.
Why You Should Work with EcoComfort
Because there are so many different factors to consider when installing new insulation anywhere in your home, we always recommend working with a professional team like EcoComfort. It's not that we think you're a bad DIYer - it's just that our experience and training will help ensure that you have a safe, high-quality installation that will last you for years. With the wide range of options on the market and variability in homes and climates, making sure you have the right product and that the unique features of your home are taken into account when choosing and installing new insulation can mean the difference between a short term and long term solution (plus a lot of time, money, and effort!).
EcoComfort teams are specialists when it comes to attics and committed to exceeding your expectations, providing dependable and knowledgeable services. If you have any questions about how blown in insulation will improve your heating and cooling system, get in touch - we'd be happy to tell you more.