Can You Add New Insulation Over Old Insulation?
Published on November 29, 2022
Are you noticing unexpected cold drafts in your home? If so, your insulation may not be as efficient as you thought. Attic insulation in Mississauga is vital for maintaining low energy bills and keeping conditioned air inside your home - instead of escaping through cracks and crevices. If you want to enjoy a consistent and evenly distributed indoor temperature, it's essential to contact a professional attic insulation company, like EcoComfort, to decide if adding new insulation over your old insulation is the best route of action.
Continue reading to learn if adding new insulation over old insulation is suitable for your home.
Do I Have Enough Attic Insulation in Mississauga?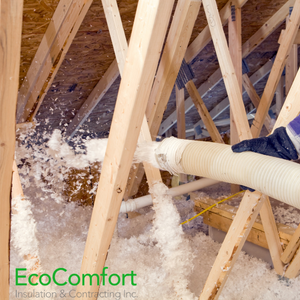 One of the most critical thermal resistant barriers for your home is attic insulation, so when you don't have the right amount, you can experience cold drafts, uneven temperatures, poor ventilation, and permit conditioned air to escape. There are a few factors to consider when identifying if your attic insulation is sufficient. One way to check if you have enough attic insulation in Mississauga is by looking in your attic for any signs of missing or damaged insulation. If you notice that your insulation is level with or below the attic joints, it indicates that more insulation is needed. If you see that there are low spots, the insulation is not evenly distributed, and there's evidence of moisture or rodent pathways, you should consider hiring an attic insulation company to inspect your space as soon as possible.
Can You Add New Insulation Over Old Insulation?
Incorporating new insulation is a great way to help reduce your carbon footprint while enhancing your home's indoor comfort. Adding new insulation over old insulation can be done if your attic insulation is well-maintained and in good condition. However, a professional should always inspect your attic to confirm or deny if the insulation is in good shape. At EcoComfort, we typically recommend a removal and retrofit method for home insulation improvements. Our team of professionals begins by inspecting your space, looking for damaged or inadequate insulation material, and recommending the necessary repairs and upgrades.
When Should Old Insulation Be Removed & Replaced?
If you have old or insufficient insulation and want to top it off, it's essential to get your space inspected by professionals first. The attic experts at EcoComfort can thoroughly inspect your attic for any damages that interfere with adding new insulation over old insulation. If your attic insulation is wet, damp, or previously damaged by water, it must be removed and replaced with blown in cellulose insulation. Water from heavy rain or a pipe burst can soak through the insulation, creating the perfect environment for mold, mildew, and insects to thrive. It's important not to add more insulation over the old insulation as the issue will persist, leaving the new insulation compromised. In addition, if your previous insulation does not have a high R-Value, replacing it with blown in cellulose insulation can provide you with proper thermal performance, saving you from high energy bills and drafts throughout your property.
EcoComfort: The Attic Insulation Experts
Are you unsure if your attic insulation needs to be topped off or removed and replaced? With years of first-hand experience, the professionals at EcoComfort can efficiently identify and recommend the next steps.