Common Attic Insulation Problems Uncovered By Inspections
Published on March 18, 2022
Dated or deteriorating attic insulation in Toronto can drastically affect your home's heating and cooling mechanisms. As your home insulation declines in efficiency and effectiveness, your air conditioning and heating will have to work harder to achieve ideal climate control, costing you energy and money. Several factors can lead to problems with insulation, but an attic inspection can help homeowners quickly identify and act on those catalysts before they create issues beyond the attic space.
Conducting regular attic inspections enables you to easily stay in touch with your insulation to maintain a high functioning, energy-efficient home. You may not be able to pinpoint a problem on your own, that's why EcoComfort recommends having one of our professionals conduct the inspection. Our experts are equipped with the experience, tools and expertise to carry out a complete and comprehensive assessment of your attic.
Here are some of the common problems we've uncovered during attic inspections, and how such issues can lead to problems with your insulation.
When To Book An Attic Inspection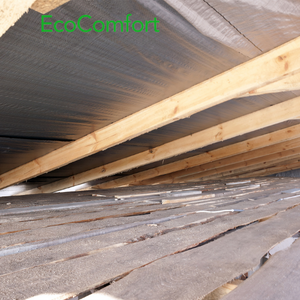 If you notice that your home is hotter than usual and your A/C is running longer than usual in the summer, or if you're cranking the heat up in the winter and it's still cold inside your house, you may need to schedule an attic inspection. Insufficient or depleted attic insulation in Toronto can create inconsistencies in your home temperature, making climate control extremely difficult. Your energy bills are usually a good indicator of a problem that needs to be addressed.
It's also a good idea to check in on your attic insulation in Toronto following the winter season or after a massive storm. If your roof is compromised due to a natural weather event, there's a good chance your attic has been impacted in one way or another. Roof and attic leaks can lead to a myriad of problems from mold outbreaks to pest infestations.
Attic Insulation Problems
Most attic insulation in Toronto is plagued by similar problems. Here are some of the recurring issues that experts at EcoComfort have stumbled upon during attic inspections in Toronto.
Electrical Wiring
Loose electrical wiring is a common trend we see during an attic inspection. Exposed wiring not only jeopardizes your insulation with the threat of a fire, but this consequently poses a severe risk to the safety of your home as well.
Chimney and Vent Heat
Vents or a home's chimney typically run through the attic, while hot air makes its way through your roof and out of your home. But blocked ducts or vents can trap hot air in the attic, leading to moisture buildup within your attic insulation. Moisture can accelerate mold growth and ultimately damage the integrity of your attic insulation.
Roof Sheathing
If your roof sheathing – the layer of your roof that supports the materials that cover your roof – is compromised, it can create problems for your attic insulation. Natural elements that use your compromised roof sheathing as a gateway into your attic can impact your insulation's performance through water damage or a mold outbreak.
Plumbing
Your home's plumbing system may also weave into your attic's space. Water leaks can lead to a mold outbreak, while air leakage from plumbing stacks can also create water vapour and moisture buildup of its own.
Expert Attic Inspections at EcoComfort
Experts at EcoComfort know how to look and what to look for during an attic inspection. Going with the professional route ensures a solution to your problem, and guarantees that your fix will be done the right and efficient way.
If you have any questions about an attic inspection, reach out to an expert at EcoComfort.