High-Quality Attic Insulation Toronto
Is your HVAC system in overdrive? Are you having trouble regulating your home's indoor temperature? You likely need a professional to upgrade your attic insulation.
Whether you live in a newly built or older established home, you should always consider the status of their attic insulation. When seasons change, attic insulation in Toronto needs to respond accordingly, keeping your home warm in the water and cool in the summer. In just under 20 years attic insulation can lose its effectiveness leaving you with higher energy bills and trouble controlling your indoor climate.
Don't Wait: Check On Your Insulation
Attic insulation in Toronto is key in keeping your home climate regulated and your bills down. When insulation begins to age, the effects are felt fast and accelerate rapidly.
With the attic experts at EcoComfort you can take a closer look at your attic insulation. Take back control of your home, boost your home energy-efficiency savings, increase cost savings, and improve your indoor comfort with attic insulation solutions from EcoComfort. Without question, upgrading attic insulation makes a noticeable difference. Energy efficiency is improved, indoor comfort is enhanced, and utility bills are reduced. The fact is, a well-insulated attic can easily provide 30% to 40% savings on winter heating and summer air conditioning.
Does Your Attic Insulation Need Attention?
Sometimes trouble with attic insulation can be as simple as age. Most insulation materials only last about 20 years, after which their performance drops drastically. But, the deterioration of attic insulation in Toronto can be accelerated by factors such as water damage, roof damage, poor insulation, mold, and pests.
Have you noticed:
Worsening air quality
Excess humidity
In-home temperature not evenly distributed
Mold in your attic or elsewhere in your home
High energy bills
Cold drafts & air leaks
Uneven temperatures around your home
Pests nesting in your home
Your air conditioning unit or furnace working harder and for longer
Leaks or ice damming around your roof
Listen to your attic and contact EcoComfort for an attic inspection in Toronto.
Home Insulation for Every Season
As hot air rises throughout your home, it can accumulate in areas which are prone to heat loss, such as an empty attic. Attics are perfect for storage or as an emergency bedroom, however, the unfinished space above the top floor can create numerous problems for homeowners. During the winter months, homes are heated and that warmer air rises throughout the home eventually reaching the attic. Non-insulated attics can easily allow hot or cold air to escape causing the heating or cooling system to run longer to maintain the desired temperature. This means more energy consumption and higher utility bills. Local homeowners should consider installing attic insulation in Toronto to provide a better thermal performance to your home insulation and to reduce those monthly costs.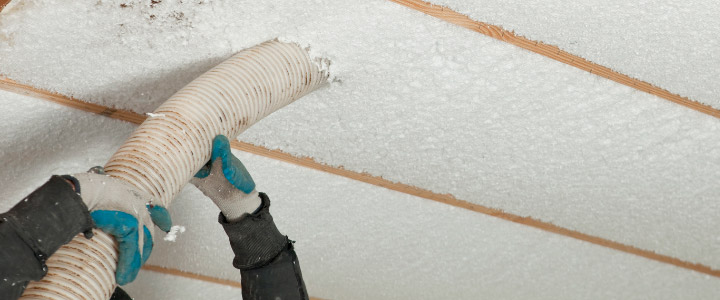 Are You Attic Costs Adding Up?
Builders rarely insulate attics when constructing homes and they are usually left in an unfinished state. Open slats and exposed exterior walls provide many opportunities for air to escape which directly impacts the cost of heating and cooling your home. A higher energy bill means your heating and cooling equipment is operating longer than it should resulting in increased wear and tear on equipment. Fully insulating your home's attic will reduce energy consumption and save you money in unnecessary and costly furnace and air conditioning repairs.
Quality

Attic Insulation Improves Energy Efficiency

In winter, poorly performing insulation allows for heat loss through the roof. It causes the furnace to work harder to keep the home warm and comfortable. It's similar in summer when the AC unit has to work harder to keep the house cool. For attic insulation in Vaughan, EcoComfort Insulation and Contracting installs high-quality products with excellent results every time.

EcoComfort will typically recommend blown in cellulose for attic installation. The product provides satisfactory coverage in the attic and roof cavity and ensures the required R-Values. In a properly air-sealed attic, blown in cellulose effectively blocks air leakage while insulating the home very efficiently. Blown in cellulose has gained popularity for attic installations because it's effective.
Thermal Performance: Blown in cellulose provides excellent levels of thermal performance when professionally installed. This product can also be installed to upgrade the R-Value of existing insulation material. If the existing insulation is dry and uncontaminated, the blown insulation in Toronto can be applied as a "top-up".
Fire Resistance: Cellulose insulation is treated to be fire-resistant. When professionally installed, the material is designed to inhibit the spread of fire. Industry tests show that cellulose insulation does quite well during fire testing, providing significantly more fire resistance than other comparable materials.
Effective Coverage: For insulating "hard-to-reach" areas in the attic and roof, blown-in cellulose provides very effective coverage. While those awkward spaces in the attic restrict access, blown in insulation in Toronto effectively fills all of the small gaps and crevices and is far better than those insulation batts.
Good Investment: With a professional installation from a leading insulation company in Toronto, blown-in cellulose requires less installation time than many other insulation products on the market. And because of the installation cost, it's a good investment over the long term. Even more, there's no compromise on the quality and integrity of the installation.
Non-Toxic Product: Blown-in cellulose insulation contains NO toxic chemicals, NO formaldehyde, and NO asbestos. During the manufacturing process, the cellulose is treated with boric acid, which acts as an antiseptic and insecticide. This treatment resists mold and repels insects throughout the attic
A High Tech Solution For An Old Problem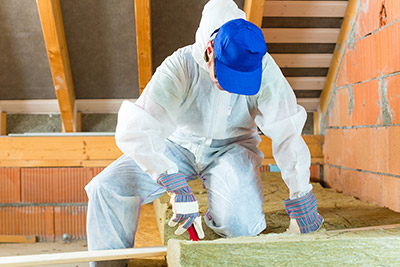 No home construction is ever perfect and controlling and maintaining air flow within the home is one of the biggest challenges for homeowners in Toronto. Older homes have their own set of unique problems related to wear and tear. Professional insulation specialists believe that proper attic insulation in Toronto is the most efficient way to control airflow, add thermal stability to your home insulation, reduce costs and keep the home comfortable all year round. EcoComfort offers the latest in blown-in fiberglass or blown-in cellulose insulation and ensures the complete coverage of your attic.
The Benefits of Blown in Cellulose
Having a well-insulated attic prevents your HVAC system from going into overdrive, causing heating and cooling issues in your home. Insufficient insulation happens for a number of reasons but most commonly due to the age of the insulation, the type of insulation, and the amount of damage. With insufficient insulation, your air conditioning is prone to escape through cracks, holes, or air leaks. If you're looking to start saving on utility costs, have thermal protection, well-ventilated air, and evenly distributed temperatures throughout your home, look no further than attic insulation from EcoComfort Insulation & Contracting.
Below are the benefits of attic insulation in Toronto:
Cost-efficient
Quick installation
Durable & long-lasting
Mold & mildew resistant
Protect your HVAC system from being overworked
Better air quality & ventilation
Improved energy efficiency
Enhanced in-home comfort
Environmentally friendly, non-toxic materials
It's not too late to upgrade your attic insulation - contact the professionals at EcoComfort for efficient and effective blown-in insulation.
How Do You Know When to Get Your Attic Insulated?
The problems associated with poor attic insulation are often difficult to notice. Like the cold or flu, a lot of symptoms can be caused by other problems or issues. It's also very easy to ignore the attic for the simple reason that it's not a room we generally use or pass through on a daily basis. Attics often have inconvenient or difficult-to-access hatches located in the closet or near the stairs, and without a reason to poke your head up there, it's tricky to know what's going on.
Pay attention to the following signs in your home. If a few of these common problems begin to appear, it might be a good time to get an attic insulation specialist to come by and assess your home.
You have hot or cold spots and drafts: When your home doesn't seem to be evenly heated or cooled, that's likely because air is moving around when it shouldn't be. Leaky or under-insulated attics are often a primary cause of air movement throughout your home.
Your utility bills are high: A lack of good insulation means that your heating or cooling system needs to run a lot more frequently to keep your home warm or cold - and that is costing you money every month.
Your temperature is difficult to regulate: When your insulation isn't doing what it's supposed to, your home temperature will fluctuate wildly and respond more quickly to the weather. New insulation will help stop this yo-yo effect and even out your home's temperature.
Professionally Installing

Attic Insulation in Vaughan

Sometimes, it's tempting for a homeowner to consider a DIY approach with insulation, especially when trying to save money. The truth is, nothing can compare with the workmanship of a professional insulation contractor who has the tools, equipment, experience, and expertise.

From the initial inspection to the finished installation, professionals know how to do it right the first time. At EcoComfort, our customers are assured of project completion from start to finish. We do it all – from the attic inspection to insulation removal to insulation upgrades to attic ventilation.
The Benefits of New Insulation for Your Attic
At EcoComfort, our experience helping clients across the GTA has shown us the many benefits of installing new insulation in your home. Having a well-insulated attic prevents your HVAC system from going into overdrive, causing heating and cooling issues in your home. Insufficient insulation happens for a number of reasons but most commonly due to the age of the insulation, the type of insulation, and the amount of damage. With insufficient insulation, your air conditioning is prone to escape through cracks, holes, or air leaks. If you're looking to start saving on utility costs, have thermal protection, well-ventilated air, and evenly distributed temperatures throughout your home, look no further than attic insulation from EcoComfort Insulation & Contracting.
It's environmentally sound: Many of our customers come to us with environmental concerns or an interest in increasing their energy efficiency. New insulation has a positive effect on the environment because it helps you be more energy efficient, keeping your conditioned air inside your home and reducing the run time on your furnace or air conditioner. This lessens the load on the entire energy grid and helps reduce carbon emissions, resulting in a better environment for all.
It lowers your monthly costs: Heating and cooling your home can make up a huge portion of your monthly living expenses. Adding new insulation to even just the attic of your home can make a significant difference every month to that bill. New insulation will help stop air leaking from your home, which affects the run time of your furnace. Fewer hours on means more dollars in your pocket!
It helps prevent moisture damage: Heat rises through your home and will collect in an under-insulated attic, where it can create condensation and help encourage mold growth, rot, and insulation damage. Better insulation will help keep that heat where it belongs and create an environment unfriendly to dangerous mold growth.
It helps improve your indoor air quality: Damaged or old insulation can harbour dangerous substances like asbestos, or collect allergens and support mold growth.
Choosing an Eco-Friendly Attic Insulation in Toronto
Many of our customers at EcoComfort have serious (and legitimate) concerns about climate change and what they can do to help make their homes easier on the world around them. While our company can't fix the mistakes of the past, the present holds a lot of great affordable green options for your home that have a positive impact on our natural resource consumption, waterways, air quality, and garbage creation.
New attic insulation also helps reduce your carbon footprint by lessening your energy consumption. Choosing a green insulation material, like blown in cellulose insulation, can reduce and reuse materials otherwise destined for the landfill.
Trust the Professionals at EcoComfort For The Best Attic Insulation in Toronto
There's no doubt that a well-insulated attic will dramatically improve home energy efficiency and enhance indoor home comfort. With EcoComfort, customers are assured of high-quality insulation products that are safe and chemical-free.
Before installing attic insulation, our team performs a complete attic inspection to determine if any repairs or retrofits are required. We also assess whether total insulation replacement is needed or if "topping up" will suffice.
Proper attic insulation in Toronto is proven to drastically cut heating costs throughout the winter season by keeping cold air out and trapping warm air in. Thorough and expertly installed attic insulation will reduce energy consumption, saving money in both energy and repair bills. Property owners should only trust professionals with extensive residential experience to complete the job.
EcoComfort is Toronto's experienced attic insulation contractor you can trust to get the job done right the first time. Homeowners can expect 100 percent satisfaction in both the job and the price when hiring EcoComfort to insulate their attic. EcoComfort has the residential home experience and expertise to fully seal and insulate your home's attic and upper crawlspaces.
EcoComfort services customers throughout the Greater Toronto Area. Our work is guaranteed and will often exceed customer expectations. Importantly, we maintain our quality approach without taking shortcuts.