Attic Inspection Services in Toronto
In most residential homes with an attic, there's a tendency for winter heating and summer air conditioning to escape through the roof. Without suitable attic insulation in Toronto, it's simply a recipe for wasted energy and therefore wasted money.
The attic isn't just an "empty space" – it has a lot of impact on the entire home – so it makes sense to have a regular attic inspection in Toronto. Indeed, the condition of an attic can reveal a lot and can pinpoint problems that need a fix.
Essentially, an attic inspection assesses everything from the structure itself, to the insulation materials, to the ventilation. The idea is to catch problems before they develop and to prevent much more significant problems from advancing further.
The Benefits of an Attic Inspection in Toronto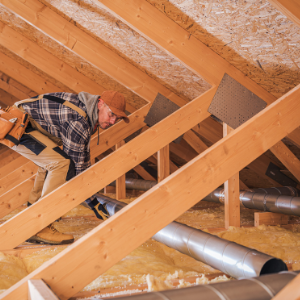 An attic inspection provides the homeowner with all types of valuable information – from moisture issues to mold growth, to poor air quality, to under-performing attic insulation. More than that, a thorough inspection will uncover whether rodents or insects have infiltrated the space.
Finally, a professional attic inspection will also reveal information about the condition of the roof itself. Without question, roof issues should be caught early to avoid the potential for more severe issues.
Minor problems can quickly become big problems (and costly problems).
Attic Inspections Identify Potential Problems
The goal of an attic inspection is to identify potential problems well in advance. With regard to attic insulation, a good inspection will identify materials that have deteriorated or a previous installation that was inadequate. Even worse, the attic may be allowing for air leakage.
Because the attic cavity is out of sight for most homeowners, many problems are also out of sight. That's why an attic inspection is so critical – it allows for all the physical elements to be assessed. Most importantly, remedies can be considered and implemented as needed.
Calling An Expert or Choosing a DIY Approach to Insulation Installation
Throughout a home, many fix-ups do well with a DIY approach, and these can certainly save some money. While it may be tempting to carry out a DIY inspection in the attic, nothing will compare with an expert who has the proper tools, along with experience and expertise.
When it comes to an attic inspection, professionals know what to look for. Some experts recommend an inspection twice a year (in the spring and the fall). It's an excellent way to know that everything is in good shape and a perfect way to find out if something needs more attention.
For those who are buying or selling a home, an attic inspection is highly recommended. It avoids the eventuality of a surprise and allows for an accurate assessment of the property as a whole. A good inspection will assess the general airflow, insulation performance, and air ventilation.
What to Expect from a Professional Inspections in Toronto
When arranging for a professional attic inspection in Toronto, homeowners should expect a complete and comprehensive process. Everything should be fully addressed, and a documented summary should be provided that includes an in-depth overview and an appropriate action plan.
Air Ventilation: Moisture condensation and signs of mold growth are indicators of inadequate air ventilation.
Installed Insulation: Deficiencies would include compacted insulation, deteriorating materials, and poor air sealing.
Water Leakage: A proper inspection will identify indicators like water stains, rotted wood, and mold infiltration.
Animals and Pests: Animal droppings, insect infestations, and bird nests can all damage the installed insulation.
Exhaust Ducts: Roof exhaust ducts and air vents should be operating at peak performance to ensure circulation.
Problems Detected wtih Thorough Attic Inspections
Homeowners installing attic insulation will find it valuable to perform an in-depth attic inspection before doing any work. It's the best approach for identifying problem areas such as deteriorating insulation, inadequate ventilation ducts, air leakage issues, and structural issues. With expert inspections, you can identify vulnerabilities in your home insulation, and make the switch to blown-in insulation in Toronto.
What's essential with an attic inspection is to address potential issues before they get serious. Because attics are typically out of sight, problems tend to develop without being noticed. That's why a proper inspection is integral in identifying problem areas and seeking suitable remedies.
For those who are buying or selling a home, an attic inspection is critical to the process. It will avert potential surprises while allowing for an accurate appraisal of the house. A good inspection will assess air leakage, insulation, and ventilation – each important and relevant to the home.
Attic Inspection to Assess Existing Insulation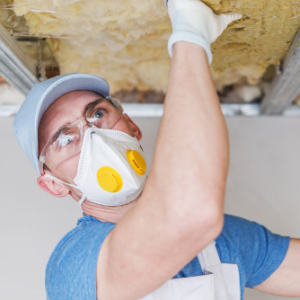 Good attic insulation is the effective antidote to Canada's extreme weather conditions, both in winter and summer. A high-quality product and a quality installation will ensure the indoor comfort and energy efficiency that homeowners expect.
With a proper inspection, it's possible to determine whether installed attic insulation is doing its job. It's also possible to ascertain what upgrades and retrofits are required to achieve peak performance.
The idea is to optimize energy efficiency.
Leading Attic Inspection & Insulation Services in Toronto
Throughout the Greater Toronto Area, EcoComfort Insulation and Contracting offers professional attic inspection. Our team of highly experienced specialists will assess the current condition of your attic, evaluate the performance of installed attic insulation, and check the entire roof cavity for areas of deficiency.
Our team will report on problem areas and will recommend viable options for improving energy efficiency. At EcoComfort, we do it all – from professional attic inspection to insulation removal to insulation upgrades to roof leak repairs to the attic ventilation. We provide high-quality workmanship that is fully guaranteed.
For a quick, free attic insulation cost estimate, talk to the EcoComfort team directly.