Attic Ventilation Services in Toronto
Home ventilation is no less important in the attic than it is in the rooms of your home. In fact, it may even be more important, as having proper attic ventilation in Toronto is key to ensuring your attic insulation is performing the way it should, and is keeping your living space warm all year long. Good attic ventilation prevents the temperature of the topmost part of your home from getting too warm or too cold - which helps reduce moisture in the former, and heat transfer in the latter. Long-term, ventilating your attic correctly will prolong the lifespan of your entire roof structure, from insulation to supports to shingles.
The Impact of Ventilation on Your Attic Insulation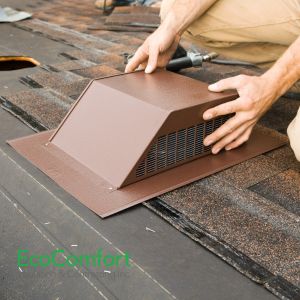 At EcoComfort, we specialize in attics and in providing attic ventilation in Toronto. Our focus on this single area of your home has allowed us to build up a unique and in-depth understanding of how your attic works. Each attic space is unique, containing flat areas, peaks, dormers, false windows and other features that affect the way it functions throughout the year. Proper attic ventilation in Toronto gives your insulation the tools it needs to perform at its best, which is why we offer free attic inspections in Toronto for all our customers. It allows us to ensure that your attic has the ventilation options best suited for its shape and size, and that they are installed where they're needed most.
The Benefits of Attic Roof Vent Installation
The importance of having adequate attic ventilation in Toronto is often forgotten when installing new insulation or re-shingling a roof. In Toronto, EcoComfort sees many homes in which old components haven't been updated and are no longer up to code; what was acceptable 30 years ago may no longer work effectively with modern building materials and practices, and a mismatch can cause a lot of trouble down the line.
Good air circulation is a critical component to good roof design, and installing appropriate vents with a leading insulation company in Toronto is a preventative measure that can provide a number of advantages to your home:
Roofing and insulation materials are better protected from deterioration
Less heat buildup, which offers energy efficiency in the rest of the home
Less moisture buildup, preventing condensation and mold growth
Insulation can perform better, lowering heating and cooling costs
EcoComfort has a Ventilation Solution to Fit Your Home
When we assess attic ventilation in Toronto homes, our first step during our free consultations is to find out the best approach for your home's unique needs. There are a number of different kinds of vents that EcoComfort installs and recommends for homes.
Low Profile Vents: Also known as a box vent, low profile vents are basic, entry-level vents, with no moving parts. Installed at strategic points close to your roof ridge, they work with natural air convection, allowing hot, moist air to vent right out of your attic.
Static Ridge Vents: This vent also contains no moving parts, and are often paired with soffit vents. When installed along the the length of your roof's ridge, static ridge vents are a very efficient way of improving attic ventilation in Toronto, and of providing an even temperature distribution throughout the roof.
Attic Soffit/Eave Vents: Soffits vents allow your attic is breathe in, and are generally installed along the underside of your roof's eaves. Soffits allow fresh cool air to be drawn into the attic, which helps to push warm moist air out. Paired with an exhaust vent like the static ridge vent, soffits help create the most thorough attic ventilation system.
Rafter Vents: Installing rafter vents help keep your soffits clear so that fresh air can easily enter your attic, and they are installed strategically so that attic insulation in Toronto or other necessary structures aren't affected.
Gable Vents: This specialized vent, also known as a gable end vent, is designed to be installed in the gable, or peak, of the roof, a trouble area where warm air can easily collect.
Power Vents: This type of attic vent is motorized, and depending on a few variables, can often be controlled by relative temperature and humidity levels. These quiet, electrically powered motors can help increase air flow.
Work with EcoComfort - Attic Ventilation Experts
Improving your attic ventilation is a key way to boost your home's overall attic insulation performance in Toronto and energy efficiency. EcoComfort offers professional, comprehensive assessment and installation services for attic ventilation in Toronto and the GTA, with guaranteed products and installations. Our friendly, dependable technicians are on hand to manage each project from start to finished, so that we can ensure your expectations are exceeded and our workmanship meets your needs.
To learn more about our products and services, call EcoComfort.