Attic Insulation Upgrades in Toronto
Are you overspending on your utilities?
Uprade your attic insulation in Toronto with EcoComfort, a leading home insulation company and boost your savings by 30-40%.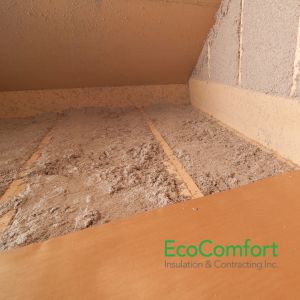 Investing in high-quality blown-in attic insulation costs cuts down energy waste, so you can keep more money in your wallet. At EcoComfort, our team of attic experts will carefully inspect the condition of your attic and existing insulation, making recommendations that will deliver significant return on investment.
At EcoComfort, our teams of highly trained technicians provide year-round attic insulation upgrades to customers interested in investing in their comfort and in their homes.
What is an Attic Insulation Upgrade?
Attic insulation is a key part of your home's system and good insulation helps everything from your furnace to your roof to work properly and in sync. Especially in areas like the GTA, where homes are older, attic insulation upgrades in Toronto usually mean clearing out old, underperforming insulation and repairing or replacing worn, inefficient areas before installing new insulation. Often, these attic insulation upgrades in Toronto are paired with the installation attic roof leak repair, attic ventilation upgrades, and attic insulation removal.
Especially in southern Ontario, where the temperature can be -30 one month and +30 six months later, new insulation can help your home cope better with these major temperature fluctuations.
Is Old Insulation Affecting Your Home?
The attic can be an easily forgotten part of your home, but especially in older homes, attic insulation upgrades in Toronto can cause a huge change in the indoor environment, showing that this important part of your home shouldn't be forgotten. Older homes often have insulation that is below current building codes. At EcoComfort, an expert insulation company in Toronto, we also often find insulation underperforming or ruined due to time, water leaks, pests, mold, or other conditions caused because of, or in tandem with, the lack of proper insulation.
High-quality insulation can also help:
Prevent material deterioration
Prevent mold growth
Prevent condensation from forming and leading to deterioration or mold growth
Stop ice dams from forming
These issues can cause homeowners a great deal of trouble and expense to fix, and that's not all attic insulation upgrades in Toronto can help with. Good insulation first and foremost helps keep your air conditioning in, which helps your furnace or air conditioner to work more efficiently - if it's busy replacing air escaping through an under-insulated attic, it's accumulating more wear and tear and will need maintenance or repairs more frequently.
Energy Savings are a Major Benefit of New Attic Insulation
When doing attic insulation upgrades in Toronto, our clients often report an increased savings on their energy bills as well as in the comfort of their home. With new insulation, you ensure that energy formerly lost through a leaky attic is now kept where it belongs - in your home. In the winter, that means that the heat stays in, and in the summer, that insulation works to keep heat out, resulting in a home environment that is comfortable all year round. When working together with your roof and proper attic ventilation, attic insulation upgrades in Toronto can help save you nearly 40% on your annual home heating and cooling costs. With fuel costs on the rise, installing new attic insulation can help you ensure your bills remain stable and your home comfortable.
The Types of HomeInsulation Used at EcoComfort
At EcoComfort, we offer blown-in insulation. For attic insulation upgrades in Toronto both of these products have unique advantages that will suit an individual home's needs best, and both products have similar R-Values, the industry rating that judges a material's ability to resist heat flow.
Both types of insulation are blown in using an electric blower, which means they offer superior coverage and settle easily around joists, cracks, and hard to fill spaces. At EcoComfort, our preference is to use blown-in cellulose for any attic insulation upgrades in Toronto, because it offers superior density. However some homes will perform better using fibreglass - regardless of the product used, after assessment, an EcoComfort professional will suggest the best option for your home and budget.
Upgrade to Cellulose Insulation in Toronto with EcoComfort
As you can see, attic insulation upgrades in Toronto can help your home stay more comfortable, reduce your energy bills, and prevent unwanted damage or maintenance from occurring in your attic. At EcoComfort, we work with you to safely and professionally upgrade your attic insulation, and guarantee our safe and chemical-free installation will satisfy you.
We provide attic insulation upgrades in Toronto and the GTA, performing removals, attic and roof leak repairs, and helping our clients improve their attic ventilation. We offer free home estimates, and would be happy to tell you more about our products and services.