Does Attic Insulation Contain Vermiculite Asbestos?
Published on February 17, 2020
In nature, vermiculite is naturally occurring – it's a mineral that comprises shiny flakes that are light-weight, fire-resistant, and odourless. Over the years, vermiculite has been used in various products, and particularly in attic insulation.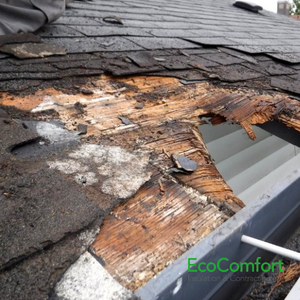 If you know that your attic insulation contains vermiculite (or if you suspect this), then you should assume that the material contains asbestos. It would be advisable to have an expert undertake complete vermiculite insulation removal.
In Toronto, older homes may have been insulated with vermiculite. Because the installed material creates "pockets of air", it was a good thermal insulator in attics and walls. As well, it doesn't burn, so it was well suited for the attic.
What does vermiculite attic insulation look like?
Vermiculite insulation is typically a "loose-fill" material. When installed in the attic, it's got a pebble-like consistency and varies in colour (depending on the manufacturing). The stony-looking insulation material provides thermal protection.
It's not uncommon for homes built before 1990 to have vermiculite in the attic (or walls). Hence, it would be wise to have professional attic insulation removal, likely provided by someone specializing in vermiculite insulation removal.
Why is vermiculite attic insulation dangerous?
A high proportion of vermiculite insulation originally came from one manufacturer, and it was usually contaminated with asbestos. The asbestos component poses the actual health risk, since exposure to asbestos fibres is connected to mesothelioma and even cancer.
Interestingly, the vermiculite material itself has not been connected with any health risk. But because vermiculite may contain asbestos, there are inherent problems. Homeowners who suspect vermiculite insulation should assume that asbestos is part of the material.
Can I remove the vermiculite attic insulation?
If you've discovered (or suspect) vermiculite insulation, do not remove the materials on your own. The only way to undertake vermiculite insulation removal is to hire a contractor that specializes in attic insulation removal. A DIY attempt is chock-full of unnecessary risk.
For homeowners who plan to renovate, it's important not to disturb any vermiculite in the attic or walls. These materials must be safely handled and removed by a professional. When vermiculite and asbestos are disturbed, there's a potential for hazardous air-borne fibres.
Attic insulation removal from the experts at EcoComfort Insulation & Contracting
Regardless of the reason, insulation removal should be managed professionally. With attic insulation, it's also ill-advised to simply remove old materials and re-install new materials. With EcoComfort, repairs and retrofits are undertaken before any insulation is installed.
With vermiculite insulation, removal and disposal should be handled by a professional contractor. These are hazardous materials and require special equipment and special protective clothing. This would not be the right time to save money with a DIY approach.
Once insulation removal has been completed, EcoComfort will install safe, chemical-free materials that provide optimum performance. We specialize in blown-in cellulose and blown-in fibreglass, with all work attic insulation installation work guarantee, regardless of project size.
Find out more about our products and services by calling EcoComfort at 416-333-4554 or visiting our company website.