Escaping The Upcoming Winter Months with Blown-in Insulation
Published on August 31, 2023
As the summer ends, we must begin to prepare for the winter months to ensure our homes are equipped for cold weather conditions. Your attic insulation in Toronto plays a significant role in ensuring that your home is ready to withstand whatever winter brings your way. At EcoComfort Insulation, a leading insulation company in Toronto, we help property owners throughout the GTA upgrade the condition of your attic for long-lasting energy efficiency. From attic ventilation repairs to blown-in insulation upgrades, turn to EcoComfort Insulations for all your attic needs.
Explore some of the ways blown-in insulation can turn your home into the perfect escape from winter weather.
What is Blown-In Insulation?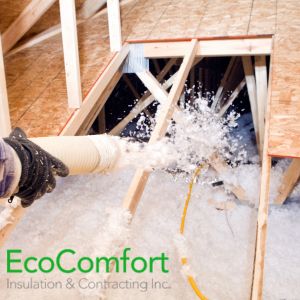 Blown-in insulation is best used for hard-to-fill areas. Made with recycled and organic materials, blown-in cellulose insulation is used in the attic to quickly improve energy-efficiency by enabling thermal resistance and minimizing heat transfer. This is a leading choice for attic insulation in Toronto because the material is treated to enhance mold-resistance and improve fire-resistance. When handled by an expert insulation company in Toronto, installing blown-in insulation in the attic is fast and effective. When consulting professionals, you can get the best possible option for your lifestyle and build your home.
Eliminating Leaks
No one wants leaks in their home, but during the winter they can be especially difficult to spot in the attic. When unattended, leaks can reduce the efficacy of your attic insulation by lowering the R-Value and triggering mold damage. Before winter starts, book an attic inspection to identify leaks before the cold season. Early detection means you can upgrade to blown-in insulation and get attic roof leak repair, with time left to spare.
Stop Heat from Escaping
Blown-in insulation is excellent for winter as it creates a thermal barrier along with sealing any cracks. Insufficient insulation can take a toll on your energy bill, taking extra energy to heat your home. The transfer of air can be reduced with the installation of insulation.
Minimize Infestations
Winter is prime time to see bugs and pests around your home. They find small openings to enter from and hibernate in the warmer temperatures during the winter. Evict these pests from your home with blown-in insulation. By sealing off any entrance points, you won't share your home with unwanted guests.
Prevent Mold Infestations
Attics are typically magnets for mold infestations, especially when not equipped with high-quality insulation. The longer mold lingers in the attic the more it negatively affects the performance of your insulation and indoor air quality. Choosing attic mold remediation services from EcoComfort and replacing old insulation with blown-in cellulose will keep infesting spores out of your home for a healthier and more comfortable indoor spaces all winter long.
High-Quality Blown-in Insulation with EcoComfort
Consult EcoComfort Insulators today to learn more about blown-in insulation and learn how we can get your attic in tip-top shape. We specialize in attic insulation services, whether insulation removal or leak repairs in Toronto. Contact today to be prepared for those winter months.