Factors that Influence the Cost of Attic Insulation in Toronto
Published on December 01, 2021
Attic insulation in Toronto plays a pivotal role in home comfort. As seasons change every few months, climate control must be able to follow fluctuations. If attic insulation is not able to keep up with heat retention and cooling, it may be time for an upgrade. Vulnerabilities in the performance of attic insulation in Toronto may quickly be apparent, or they may show up over time. While attic insulation costs tend to vary, there are some factors that will influence the cost of upgraded insulation in the Greater Toronto Area.
Here are factors that may affect attic insulation costs in Toronto.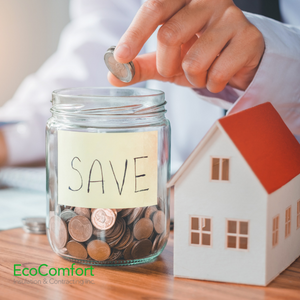 As you assess the cost of an attic insulation upgrade, consider that attic insulation in Toronto offers a significant return on investment to homeowners. After 2-3 decades, the R-Value of insulation begins to plummet. You might notice drafts throughout your home, uneven distribution of heat, mold, or skyrocketing utility bills. Any or all of these signs are symptoms that your current attic insulation is costing you.
High-performing insulation, such as blown-in cellulose, effectively retains heat, lasting decades in your attic. As a result, you're able to offset attic insulation costs by saving on monthly heating and cooling bills and repeat attic insulation upgrades over the years.
Type of Insulation and Installation
The cost of installation will depend on the insulation material you choose for your home and the area you need to be covered. As expected, larger spaces will require more insulation, manpower, and time to complete. But blown-in insulation is a more time-efficient insulation option because it is loosely blown in with professional machinery to the desired depth in the targeted areas of the attic. While other types of insulation require a more time-intensive approach to installation, blown-in cellulose is effective with a little less. To learn more about how long your attic insulation upgrade in Toronto would take, contact the experts at EcoComfort right away.
The Number of Attic Services Needed
An attic insulation upgrade to blown-in cellulose is not a one-step process. During attic inspections in Toronto homes, our experts will assess the area for any vulnerabilities and problems that require attention first. Due to moisture and limited airflow, attics often require mold remediation and attic ventilation upgrades. Mold outbreaks in the attic can impact air quality throughout the home. In some cases, attic insulation removal is also required to keep homes free of contaminated materials.
At EcoComfort, we offer mold remediation in Toronto as well as upgrades to attic ventilation. To help prevent these problems in the future, blown-in cellulose is mold-resistant to stop future outbreaks and preserve the lifespan of new insulation.
Upgrade Attic Insulation to Blown-In Cellulose with EcoComfort
Attic insulation upgrades in Toronto are not one size fits all. While attic insulation costs in the GTA vary depending on a few factors, you can count on the quality of insulation services from the team at EcoComfort. Our team of technicians is trained and equipped with high-quality, Canadian-made materials, providing a comprehensive upgrade that performs.
Call us today to schedule an attic inspection in Toronto!