How Blown In Cellulose Attic Insulation Contributes to Fire Safety
Published on January 25, 2022
Every so often, it's recommended that you hire a professional to complete an attic inspection on your property, as there are several factors in the space that act as potential fire hazards. The most common cause of attic fires are faulty or damaged electrical wiring, followed by heating units and lightning strikes. Although a less frequent cause of fires, old attic insulation can still pose a serious fire hazard. When ignited, there are some types of insulation foams that will produce intense heat and burn more rapidly than others, while some result in the spread of toxic gasses and aggressive smoke.
At EcoComfort, we highly suggest upgrading your old attic insulation to blown-in cellulose attic insulation, a product that has undergone chemical treatment to become fire resistant. Fire demonstration shows that the insulation is 50% more resistant than others, thanks to its limited oxygen availability that prohibits a fire from spreading.
How Other Insulation Materials Respond To Fires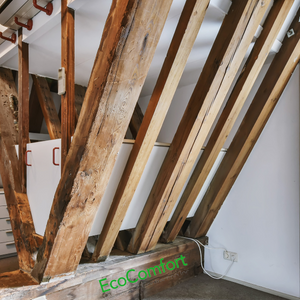 Insulation foams such as polyisocyanurate and polyurethane will produce intense heat and burn quickly when ignited. Aging insulating materials may also contribute to the growth of a blaze while releasing toxic gas and smoke into the air. How much insulation is in your attic can also be a significant factor in a fire's growth. Additionally, it's worth mentioning that your insulation can easily catch fire if there is paper facing on it.
If you're concerned about the insulation materials in your attic, our in-depth attic inspection service at EcoComfort will assess the conditions of your attic and insulating materials to determine if upgrading to blown-in cellulose attic insulation is necessary. Our recommended options are designed to not only improve insulation performance, but energy efficiency and safety as well.
Other Fire Hazards in Your Attic
If your home is around 20 years old or older and you haven't already gotten an attic inspection completed, it's very important that you book one through EcoComfort as soon as possible. There are many avoidable causes of fires that can be detected before disaster with an attic inspection. One cause is pest infestations, where mice, birds, or other pests may chew through electrical wiring and expose a wire, increasing the risk of igniting a fire.
Furnaces operating within the attic can lend themselves to the ignition of a fire. Your cooling, heating and ventilation machine is more susceptible to catching fire when temperatures soar in the summertime. With high performance blown-in cellulose insulation you will have to rely less on internal heating or cooling mechanisms to maintain the temperature, reducing the opportunity for fires.
Blown-in cellulose attic insulation guarantees the prevention of an attic fire from spreading should one ignite from any of the issues above. The material does not contain any toxic chemicals, as well as formaldehyde or asbestos. Additionally, the product is treated with boric acid to aid with mold resistance and insect repellency.
Upgrading Your Insulation
At EcoComfort, blown-in cellulose attic insulation is our go-to insulation that we recommend for best protecting your attic. In addition to its fire resistance, the material also has a high thermal performance and effective coverage that covers hard to reach spaces. It's also the most cost-efficient option, as less time and manpower is required when professionally installed.
Contact an attic expert at EcoComfort now to schedule an attic inspection today.