How Is Blown-In Cellulose Insulation Installed in Attics
Published on October 10, 2023
Effective attic insulation in Toronto is crucial for maintaining a comfortable and energy-efficient living environment. Among the various insulation materials and methods available, blown-in cellulose insulation stands as a popular attic insulation choice for its affordability and effectiveness. When installed by a professional and experienced insulation company in Toronto like EcoComfort Insulators, you can set the foundation in your attic for years of energy savings and indoor comfort. One of the many benefits of blown-in insulation is the ease and speed of installation when completed by an attic expert at EcoComfort.
To learn more about how blown-in insulation is installed and works, read on.
The Inner Workings of Blown-In Insulation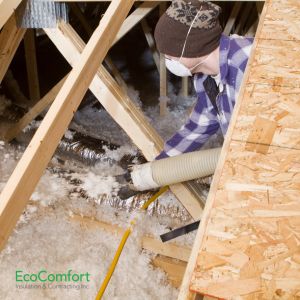 Blown-in insulation is a method of installation used for loose-fill insulation. At EcoComfort, the installation of blown-in cellulose insulation involves spraying this insulation material into the designated area through specialized equipment. The placement and distribution of blown-in attic insulation in Toronto is coordinated strategically to maximize heat resistance in the most meaningful areas of the attic.
Steps to Successful Attic Insulation Installation
Preparation: Before installation, meticulous preparation is essential. This involves sealing any gaps or crevices in walls, ceilings, or floors to ensure the insulation is optimally effective in preventing heat transfer. During an attic inspection, your insulation expert will identify areas of the attic that jeopardize energy efficiency and will provide you with recommendations and solutions.
Material Selection: The installer carefully selects the insulation material based on the unique needs of the space. Cellulose insulation is recommended and offered by the team at EcoComfort for its durability, sustainability, mold-resistance, and fire-resistance.
Equipment Setup: Specialized equipment, such as blowing machines, comes into play to ensure uniform distribution of the insulation material throughout the designated area. This equipment guarantees that the insulation reaches every nook and cranny.
Application: With precision, expert insulation companies in Toronto can dispense the chosen insulation material into wall cavities, attics, or floor spaces, filling them effectively. The insulation material settles into place, creating a thermal barrier that efficiently regulates temperature.
Finishing Touches: Post-installation, any access points or openings are sealed meticulously to prevent heat from escaping or cold air from infiltrating the space.
Purpose and Function of Blown-In Insulation
Blown-in insulation serves several vital functions when employed in residential or commercial structures: Above all, the primary role of attic insulation in Toronto is indoor temperature regulation. Blown-in insulation excels at trapping warmth during cold seasons and preserving coolness in the summer. This results in reduced energy consumption and lower utility bills.
By enhancing thermal efficiency, blown-in insulation can lessen the need for continuous heating or cooling, thereby leading to substantial energy savings. This not only benefits your finances but also reduces your ecological footprint.
Blown-in insulation also contributes to soundproofing efforts. It can effectively diminish noise transmission between rooms or from external sources, cultivating a tranquil and pleasant living or working environment.
Benefits of Blown-In Attic Insulation
Efficient Installation: Blown-in insulation boasts a relatively rapid and straightforward installation process, particularly in pre-existing structures. It doesn't entail extensive renovations, making it a cost-efficient choice for retrofitting projects.
High R-Value: Blown-in insulation boasts a high R-value, which is a measure of its thermal resistance. This translates to exceptional insulation performance, ensuring that your space remains comfortable throughout the year.
Upgrade to Blown-In Cellulose with EcoComfort
Blown-in insulation is a versatile and effective approach to insulating homes and buildings. It provides an array of benefits, including energy savings, sound insulation, and superior thermal efficiency. Considering blown-in insulation with professionals like EcoComfort as a viable option can enhance the comfort and energy efficiency of your living or working space, all while contributing to a more sustainable and eco-friendly future.