How to Choose the Best Attic Insulation Company
Published on February 24, 2021
Your home insulation, particularly in the attic space, is the key to maintaining indoor comfort and ensuring energy efficiency. Homeowners considering attic insulation in Mississauga will gain the most benefits by working with an experienced insulation contractor.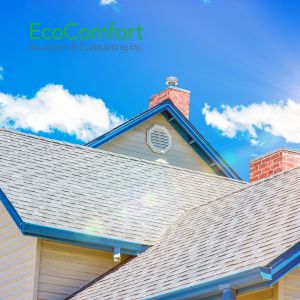 EcoComfort Insulation and Contracting is a reputable attic insulation company in Mississauga focused on quality products and quality installations. Our in-house installers are skilled in every aspect of insulation and provide the highest standard of workmanship.
Choosing a Professional Insulation Contractor
When it comes to home insulation, a DIY approach may save some money in the shorter term. However, the complexities of the job are better left to professionals – those who have the specific experience and expertise to deliver long-term performance.
For a start, attic insulation requires a professional inspection in order to assess the condition of the existing materials. This will allow for practical recommendations to be made with regard to product options, energy efficiency improvements, and any retrofits.
Options for Insulation Vary from Home to Home
Since every attic is different, options for insulation will also differ. A good inspection will soon identify repairs and retrofits that may be required to ensure peak performance for the newly installed insulation. As well, the best product will be recommended
At EcoComfort, our focus is on improved energy efficiency, enhanced indoor comfort, and saving on heating and cooling costs. And because we specialize in attic insulation, our expertise allows for a far more comprehensive approach than most basic installers.
Installing Blown-in Cellulose in the Attic Cavity
EcoComfort typically recommends blown-in cellulose for effectively insulating the attic. Installed R-Values are satisfactory, and the blown-in product is ideal for insulating all the unique openings, gaps, and cracks that are found throughout the attic and roof cavity.
Installing only the highest quality products, our installers ensure a thermal "blanket" of blown-in cellulose that is both uniform and consistent. With our specialized equipment, we can provide the most effective insulation envelope to deliver optimal energy efficiency.
Attic Ventilation is Part of a Complete System
It's counter-productive to install attic insulation without providing proper ventilation. The idea is to allow warm indoor air to rise and vent outside and allow excess air moisture to vent as well. Air vents also allow for even temperature distribution in the attic/roof cavity.
EcoComfort offers a wide range of attic ventilation options, each designed to suit a specific need – everything from basic roof vents, to static ridge vents, to soffit vents, to various motorized vents. Attic vents are essential in the performance of installed insulation.
For Quality Attic Insulation in Mississauga Choose EcoComfort Insulation and Contracting
EcoComfort is a reputable and reliable attic insulation company in Mississauga, offering customers quality products and quality installations. We provide a range of services, including attic inspections; insulation removal; attic ventilation; and insulation upgrades.
When it comes to attic insulation in Mississauga, our people are focused on a high standard of workmanship on every job. We don't take shortcuts – we do it right the first time – and our work is guaranteed. We're not satisfied with the project until our customer is satisfied.
In Mississauga, homeowners shopping for an attic insulation company can call EcoComfort at 416-333-4554 or visit our website at https://www.ecocomfortinsulators.ca.