How to Go About Replacing Attic Insulation
Published on August 18, 2023
Your attic might be out of sight, but it plays a crucial role in maintaining the comfort and energy efficiency of your home. If your attic insulation in Mississauga has seen better days, it might be time to consider replacing it for better results. Attic insulation removal and replacement is a practical way to enhance your home's energy efficiency in Mississauga. With the experts at EcoComfort, you can leverage blown-in cellulose insulation to upgrade your attic performance, saving you money and ensuring a long-lasting solution for your home.
Read on to learn more about how to replace your attic insulation in Mississauga.
Spot the Signs You Need Attic Insulation Removal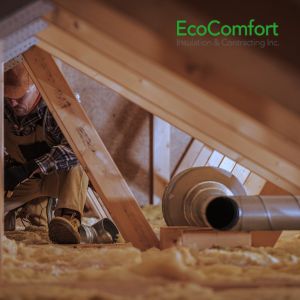 Recognizing when it's time for attic insulation removal involves paying attention to telltale signs that indicate the deteriorating state of your insulation. One key indicator that you need to upgrade your attic insulation in Mississauga is a noticeable increase in energy bills. If your heating and cooling costs have been steadily climbing despite consistent usage patterns, it could be a sign that your insulation is no longer effectively regulating temperature, necessitating its removal and replacement. Moreover, the presence of drafts and uneven temperatures throughout your home can point to insulation degradation. Cold spots in winter and hot zones during summer are indications that insulation gaps might have formed over time, requiring immediate attention.
Moisture-related issues like water damage and mold infestations are red flags for attic insulation removal. As attic insulation in Mississauga becomes wet or mold-infested it loses effectiveness and potentially compromising indoor air quality. Pest infestations, particularly by rodents or insects, can also lead to damaged insulation. If you notice signs of rodent activity, such as droppings or gnaw marks, it's wise to consider insulation removal to eliminate health risks and restore your home's energy efficiency. Visual attic inspections and staying attuned to changes in your home's temperature and air quality will help you detect these signs, prompting timely attic insulation removal to maintain your home's comfort and efficiency.
Choose a High-Quality Insulation Replacement
Once you realize your existing insulation is less effective or completely inefficient, you'll need to choose the best replacement insulation option. A leading option for attic insulation in Mississauga and the Toronto area is blown-in cellulose insulation. Blown-in cellulose insulation offers distinct advantages, such as its superior thermal resistance, seamless coverage, and eco-friendly composition. With a high R-value, blown-in cellulose efficiently resists heat transfer, ensuring that homes remain cozy in winter and cool in summer without excessive energy consumption. The unique blown-in installation method fills every nook and cranny, leaving no gaps or voids that could compromise insulation effectiveness. Moreover, its composition, often made from recycled materials, makes it an environmentally conscious choice, aligning with modern sustainability goals. By switching to blown-in cellulose insulation, homeowners are investing in their immediate comfort and positively impacting their energy bills and the environment.
Find the Best Insulation Contractor in Mississauga: EcoComfort
Attic insulation removal and replacement with blown-in cellulose is a relatively quick process when executed by trusted and experienced professionals at EcoComfort. Our team uses high-quality materials and workmanship to ensure your attic is in good condition, from inspection to removal and insulation installation. To get started, talk to our team.