How To Know If Your Attic Is Under Insulated
Published on September 29, 2022
Like most cities in Southern Ontario, the perfect amount of attic insulation in Oakville is vital as the weather gets colder. As the temperature drops, insulation is responsible for adequate heat retention. When you seek out a professional attic insulation company in Oakville and the Greater Toronto Area, you're more likely to have the proper insulation installed in your attic. If your attic is under-insulated, you will likely feel the effects during the late fall and winter. At EcoComfort Insulation & Contracting Inc, a local attic insulation company, we offer comprehensive attic insulation solutions from upgrades to insulation top-ups so you can live more comfortably.
Here's how you can tell if your attic insulation is insufficient.
Signs Your Attic Is Under Insulated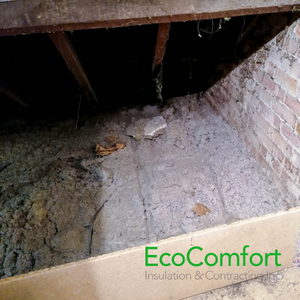 In most cases, under-insulated attic insulation in Oakville presents the same or similar symptoms around the property as ineffective insulation. Some signs you need to top up your attic insulation are sporadic drafts around your home. If you travel from one room to another and experience significantly varying temperatures, your insulation may be to blame. When it gets cold out, ice damming around the roof or your furnace running for long periods of time also points to your attic insulation. One of the most concerning effects of insufficient insulation in the attic is a high energy bill resulting from heating systems working overtime to compensate for the lack of insulation. If you notice any of these signs, an attic insulation company can help you confirm that you need new insulation. When you schedule an attic inspection at EcoComfort, our team of experts will assess the condition of your attic and its insulation and recommend a blown-in cellulose insulation top-up if required.
Professional Attic Inspection
The best way to assess what's going on within your attic is to take a look. Unfortunately, attics can be quite hazardous settings. They often contain electrical wires or asbestos and may even be home to pests like bats, wasps, birds, and vermin. The safest way to evaluate the condition of your attic insulation is with a professional attic inspection in Oakville. Our team of experienced experts can quickly decipher your insulation needs and help you take action.
Pest Infestations
When it gets cold out, animals tend to take shelter in the warmth of the attic. As pests nest within your attic, they can break down the fibres of attic insulation and reduce its performance. Droppings, odours, visible nests and entry points are all indicators that you may have animals living in your attic. To be safe, contact animal control to have them safely removed and schedule attic insulation removal and installation with EcoComfort.
Water Damage
Leaks and old water damage in the attic adversely affect the effectiveness of attic insulation in Oakville. Your roof is supposed to create a barrier between the outside and your attic. Still, as it succumbs to wear and tear over time, cracks, holes, and openings let water inside, compromising the condition of attic insulation. Removing water-damaged insulation as soon as possible is essential, or you risk mold infestations and expensive heating costs.
Expert Attic Inspections
Get to the bottom of what's going on in your attic and upgrade with professional help from the attic experts at EcoComfort. You can enable a more energy-efficient home from inspection to removal, top-up, and blown-in cellulose insulation replacements.