How to Maximize Your AC Efficiency with Attic Insulation Upgrades
Published on June 02, 2023
When we think of getting the most out of our AC, we think of regular maintenance, covering it during the winter and calling for a service check when something goes wrong. It might be strange to think your attic insulation will impact your AC performance, but the two do have a close relationship. When your attic insulation in Toronto is inspected, the technician will be able to tell you if you need to remove and install new insulation. The attic insulation cost will be well worth it as it will help you save on utility costs over the long run. EcoComfort are attic insulation experts that use only safe, chemical-free materials.
Read on to learn how to maximize your AC efficiency with attic insulation upgrades.
Why Do You Need An Attic Inspection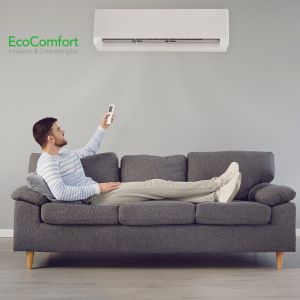 Attic insulation in Toronto is an integral part of your house and helps to keep your home running efficiently, protects your roof's structural integrity and helps keep your temperatures nice and balanced.
It might not be well-know that attic insulation degrades over time. If your attic insulation is 20 years old or older, you should have a thorough inspection of your attic insulation and attic. Attic insulation is often compromised if pests infest the insulation or if the attic insulation becomes wet or damp. Once insulation becomes wet, it becomes completely ineffective.
Attic inspection will also assess if there is enough ventilation in the attic; this is imperative to prevent mould infestation and ensure the air quality in your home is not compromised.
Attic inspections are also helpful to see whether there are any fire risks or hazards. Often there are lots of wires in the attic, and if pests gain access they can, they may chew on wires and create a fire risk.
If your attic insulation is no longer in good condition, it will allow for energy inefficiencies in your property.
How Attic Insulation Affects Your AC's Efficiency
If your attic insulation is functioning correctly, it will prevent heat from the hot summer from entering your home through your attic and make your AC have to work harder to keep the home cool.
When your air conditioner needs to work harder, it means higher utility bills and a drop in your home's efficiency. So your attic insulation cost will be offset by the savings you will experience on your utility bills over the long run.
General Benefits of Attic Insulation
When your attic insulation is in optimal condition, it is able to prevent drafts from entering the home and keep the house comfortable. It helps protect against roof leaks and water damage and keeps the home running efficiently. Attic insulation upgrades are well worth the investment.
EcoComfort for Attic Insulation Upgrades
EcoComfort specializes in attic and roof services. We conduct thorough inspections, and if determined we need to replace and install new attic insulation, we do so with blown-in cellulose insulation. We offer cost-effective pricing and always guarantee our work. If you have any questions don't hesitate to call to speak to one of your knowledgeable experts.