How to Protect Your Attic with Air Sealing
Published on April 25, 2023
Our attic is an often neglected area of the home. We don't spend much time in our attics and sometimes forget they require maintenance and care like the rest of our home. Our attic is integral to maintaining our entire home's efficiency and keeping a lid on our utility bills. We can protect our attic through air sealing and ensuring proper attic ventilation. Ensuring our attics don't have air leaks present numerous benefits to homeowners. EcoComfort specializes in installing attic insulation in Toronto, Mississauga and the surrounding areas. Let's explore the benefits of air-sealing your attic.
Signs You Have an Air Leak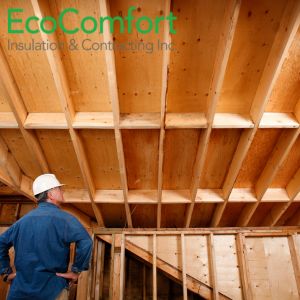 If you find a draft in your home and can't figure out where it's coming from, it might indicate an air leak. If you notice you have sudden temperature changes and really cold floors, these can indicate cold air entering your home through the attic.
Another indicator of an air leak can be unreasonably high electricity bills that are not in line with your usual or expected bills. This can indicate an air leak as air leaks make our furnaces and air-conditioners work harder to regulate the temperature.
Another sign that an air leak is present is if you notice residents of your home are suffering from allergies and respiratory issues. This might not be seasonal or just a regular cold.
Finally, if you spot mold in your home or start seeing condensation on your windows, these might be the subtle signs of an air leak in your home or attic. We need proper attic ventilation to prevent too much moisture from entering our home, preventing deterioration of roofing materials and helping to increase the longevity of roofing shingles.
Benefits of Air Sealing
Air sealing reduces small gaps and spaces through which air can travel. Sealing these gaps is essential as they keep cold air or moisture from entering the home through the attic; as well as preventing heat from the home getting trapped in these spaces in the attic. This can prevent mold growth and allergens from entering the house.
Proper air sealing will help save you money on your utility bills as well.
Ensuring all parts of your home are properly maintained can help prevent more severe damage. Making sure your attic is in excellent condition can prevent water damage, fires and pest infestation.
If you feel your home may have a leak, don't hesitate to call EcoComfort's professionals for a complete attic inspection.
Experts in Installing Attic Insulation in Toronto
Using trained professionals to conduct the air sealing in your attic is highly recommended. EcoComfort's professionals can ensure the air sealing is thoroughly performed using blow-in cellulose insulation. Attic spaces need to be handled with care as they often house wires, joists, and items where precision needs to be applied so no damage is caused. EcoComfort's professionals are also well-trained and experienced in recognizing and diagnose other issues. We guarantee our work, and you can feel confident working with highly experienced professionals.
Contact EcoComfort now for all of your attic insulation needs.