Should Blown In Insulation Be Used on Attic Floor or Ceiling
Published on October 20, 2022
Damaged or outdated attic insulation can significantly impact your HVAC mechanisms and your home's energy efficiency. Attic insulation is designed as a protective layer between your roof and the rest of your home, and when your attic insulation is insufficient, it can lead to numerous issues like uneven temperature distribution, high humidity levels, and mold growth. At EcoComfort, our team of contractors is trained and certified in installing blown in insulation to ensure thermal protection, prevent air leaks, save on energy bills, and have a consistent indoor climate throughout your property.
Continue reading to learn why blown in insulation should be used on your attic floors and ceilings.
Signs You Need to Upgrade Attic Insulation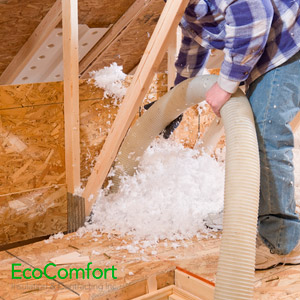 Since attics are out of sight, they are out of many homeowners' minds - making it easy to ignore the signs of poor attic insulation. When your attic insulation is not working as it should, it's essential to be aware of possible signs to take action before further damage occurs to your attic or roof, costing you more money in the end.
If your insulation is 10+ years old, you have high energy bills without changes in usage, or you experience an overworked HVAC system that doesn't evenly distribute temperatures - your attic insulation likely needs to be upgraded. To figure out the root of the issue, it's crucial to schedule a professional attic inspection.
At EcoComfort, we provide top-tier attic inspections that can diagnose if your attic insulation should be upgraded to high-quality blown in insulation. Our team of experts checks for signs of condensation, poor ventilation, and damage to the insulation to conclude if upgrades are needed for your attic floors and ceiling.
Inadequate Ventilation: Condensation, poor air circulation, humidity, or mold in the attic.
Poor Attic Insulation: Compacted attic insulation, insufficient air sealing, or drafts in some regions of the home.
Water Leaks: Rotted wood, mold growth, roof leakage, or water stains in the attic.
Pest Infestation: Animal droppings, insects, nests, or damage to attic insulation.
If you notice any of these signs, it's imperative to get your attic insulation inspected by EcoComfort.
Where to Install Attic Insulation
The best approach when installing attic insulation is to insulate your ceiling and floors for optimal thermal protection and performance. Not only is blown in cellulose insulation fire and mold-resistant, but it significantly reduces energy costs associated with heating and cooling your home by 20-50%. EcoComfort offers professional attic insulation installations that cover gaps in floorboards and ceilings, provide high R-Value thermal protection, prevent ice dams and roof leaks, and ensure better air quality.
Why Homeowners Trust EcoComfort
At EcoComfort, our goal is to provide a more comfortable home to our customers. With high-quality, safe, chemical-free, and Canadian-approved blown in cellulose insulation, you can trust that your upgraded attic insulation will last you many years to come.
If you're looking for improved ventilation, superior air quality, and indoor climate control, blown in cellulose insulation by the professionals at EcoComfort is perfect for your home.