Signs You Need New Attic Insulation
Published on January 29, 2021
Good attic insulation is simply essential for indoor comfort – particularly in the winter. If your home is abnormally cold, or if you're constantly turning up the heat, poorly performing attic insulation may be the culprit.
There are probably signs that the insulation isn't performing for homeowners thinking of upgrading their attic insulation in Mississauga. Whatever those signs, it may be time to upgrade the existing insulation.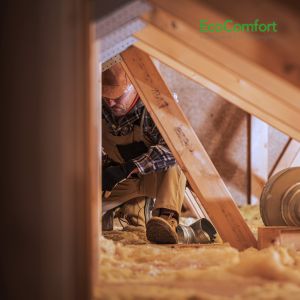 Because the attic is hidden, it's difficult to see any of the deficiencies. However, a proper inspection can certainly identify areas that need upgrading. And in the attic, blown-in insulation might be the best solution.
Deficiencies in Attic Insulation
Every residential attic is uniquely different – and therefore, insulation deficiencies are different. The key to identifying specific issues is to inspect the attic professionally, allowing for recommendations on upgrades and retrofits. Not surprisingly, many issues are exposed in the attic cavity.
Rodents may contaminate existing insulation

Installed insulation may have diminished R-Values

Attic space may have been affected by water or fire

Air leaks may be present because of poor installation

Water leaks in the attic have compromised materials
More than that, homeowners may be experiencing higher-than-usual energy bills. As well, the home may be cold throughout the winter and hot throughout the summer. Each of these "symptoms" may signify that attic insulation is poorly performing and needs expert repairs, upgrades, or retrofits.
Blown-in Insulation for the Attic
For the attic and roof cavity, EcoComfort Insulation & Contracting recommends blown-in insulation. This product has excellent coverage throughout, satisfactory R-Values once installed, and a density that effectively blocks air leakage.
The blown-in product is quite effective in topping up existing insulation and augmenting R-Values. This can be accomplished when the existing insulation is clean, dry, and completely uncontaminated.
Blown-in cellulose is a fire-resistant product that effectively prevents the spread of fire in a space like an attic. In fire tests, the product has proven to be up to 50% more fire-resistant than other materials.
Blown-in products are ideal for insulating those "hard-to-reach" areas that are typically found in the attic. With a professional install, holes, gaps, and cavities are filled much better than batt insulation.
Because of the simpler installation, blown-in products require less man-hours to install than other insulation products. As such, it's a cost-effective option and at a lower cost than other products.
For Attic Insulation in Mississauga Trust the Professionals at EcoComfort
Homeowners considering attic insulation in Mississauga can trust EcoComfort Insulation & Contracting for high-quality products and high-quality installations. We do it all from end to end – removing old insulation, making repairs and retrofits, and installing the new product.
In the attic and roof cavity, we recommend blown-in cellulose, professionally installed by experts who do it right the first time. Learn more about our products and services by visiting our company website at www.ecocomfortinsulators.ca or call us directly at 416-333-4554.