Signs Your Attic Insulation Performance is Declining
Published on June 24, 2022
At a certain age, attic insulation in Toronto will naturally begin to decline. When your attic insulation stops performing at peak, it pays to consider upgrading to blown in insulation. Poor performing attic insulation will not only cost you money but also make your home less energy efficient and uncomfortable to live in.
Several signs can indicate that your attic insulation in Toronto is deteriorating, but these indicators may not be easily identifiable. Most of the time, they are out of sight and out of mind. To decipher what's hindering your attic's performance, expert advice and knowledge is usually the best form of action. Professionals at EcoComfort are equipped with the appropriate tools and skillset to unravel your attic insulation woes. On top of that, we're also here to find and help you install the best replacement blown in insulation for your home that will last decades. While you're here, here are some signs to look out for if you're worried about the state of your attic insulation.
What Is R Value?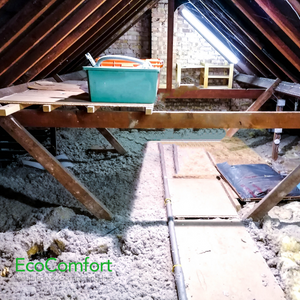 Depending on where you reside in the world and which area of the home you are insulating, your insulation will need a specific R-value. Your attic insulation's R-value will tell you how much heat it can keep from entering or leaving your home. R-value stands for resistance value, and the higher your attic insulation's r-value, the more efficient its insulating power and heat flow resistance.
Signs You Need to Upgrade
Professionally upgrading your old attic insulation to blown in insulation ensures an energy-efficient home with attic insulation with an improved R-value. With proper ventilation and air-sealing, you save money on heating and cooling. More importantly, blown in insulation is mold resistant, an issue that has long-plagued attic insulations of the past.
On top of mold and moisture issues, pests, ice damming, water damage and more can ultimately lead to you needing new attic insulation.
Ice Damming, Water Damage and Fluctuating Temperatures
Moisture buildup due to water or fluctuating temperatures can be a menace to your attic insulation.
Water can spill into your attic space from a crack in your roof. Poor attic insulation can result in a lack of proper ventilation and fluctuating temperatures in your home, leading to a buildup of moisture in your attic. Improper ventilation in your attic can also trap warm temperatures in the space, causing it to abnormally heat up in the winter. This trapped heat can lead to the snow on your roof melting and refreezing in the gutters, creating an ice dam, a sure sign that your attic insulation is declining.
More importantly, moisture buildup can result in a mold outbreak. When mold contaminates your attic insulation, it compromises your attic's performance and creates a health hazard as well. Breathing in contaminated air circulated throughout your home by moldy attic insulation can be dangerous and can lead to developing health risks.
Replacing and Installing Attic Insulation
Moisture buildup, fluctuating temperatures and an overworked HVAC system are just a few tell-tale signs that you need to upgrade your attic insulation.
Included in our EcoComfort services is an attic inspection that will evaluate the condition of your attic space and the status of the existing insulation and structural components. If any issues are identified, we move towards removing and installing new blown in insulation in your attic.
Contact EcoComfort now to find out how we can help with your attic insulation concerns.