Signs Your Attic Is Not Properly Ventilated
Published on May 18, 2022
Adequate attic ventilation regulates the airflow throughout your home. The condition of your attic's ventilation has a drastic impact on the performance of your attic insulation in Mississauga and your indoor climate. Without sufficient attic ventilation, your attic insulation is at risk of declining and eventually failing. And when your attic insulation is compromised, you may run into a higher attic insulation costs when installing a new one. If you notice that the interior temperature of your home is difficult to regulate, or if you notice ice dams forming around the roof in the winter, you may be dealing with ventilation deficiencies in your attic.
It can be a challenging getting started on addressing your attic ventilation woes, but the attic experts at EcoComfort are here to help. From attic inspections to installing new attic insulation in Missisauga, our team will help improve your ventilation, giving you a comprehensive rundown of the issue at hand and an action plan.
Read on to learn more about the signs you should be looking for that indicate that you may be dealing with improper attic insulation.
Indoor Climate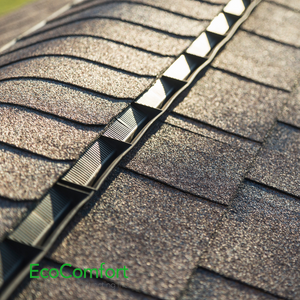 Inadequate attic ventilation will trap hot air in your home during the summer months, compromising the energy efficiency of your residence. In addition to increased energy costs, you'll likely experience great difficulty managing the temperature of your home as well. And this unregulated heat buildup in your attic can dampen or damage your attic insulation over time, as fluctuating temperatures can lead to more moisture buildup in your attic. As a result, you're likely to deal with managing a high attic insulation cost.
Moisture
When properly ventilated, your attic is typically a dry setting. Inadequate attic ventilation can lead to a moisture buildup in your attic, which can lead to a mold outbreak. Mold will most certainly compromise the performance of your attic insulation in Mississauga. Attic insulation that's contaminated with mold is not only problematic for your indoor temperature, but this is also a health hazard as well. As contaminated air from the attic is circulated throughout your home, you may breathe in toxic mold contaminants.
You may even start to notice moisture buildup inside of your home as well. Paint or drywall may be damaged, and your ceiling may even begin to sag. These are all indicators of inadequate attic ventilation.
Ice Damming
Without proper ventilation in your attic, this can trap warm temperatures and cause it to abnormally warm up in the winter. The trapped heat in your attic can lead to the snow on your roof melting and refreezing in the gutters, which creates an ice dam. Ice dams can be damaging to your physical health, your roof's structure and to the interior of your home.
Addressing Poor Attic Ventilation
If you can identify with any of the issues mentioned above, it's time to find out if attic ventilation, or the lack thereof is responsible.
Get started by scheduling an attic inspection with EcoComfort. During an attic inspection, EcoComfort looks at your attic's insulation, ventilation, water leaks and any signs of animals or pets.
Contact EcoComfort now if you have any questions about your attic insulation or ventilation.