Summer Signs of Poor Attic Ventilation in Vaughan
Published on July 17, 2023
Many people look at their attic and attic insulation in Vaughan ahead of the winter time, but the summer is arguably just as important. With heat waves, poor air quality, and record-setting temperatures, attic inspections from leading insulation companies in Vaughan and the Greater Toronto Area can provide you with meaningful change, putting more money back in your pocket. One vital element to look at is your attic ventilation. With EcoComfort, we'll help you assess the condition of your insulation and determine if blown-in insulation upgrades are in order.
Want to recognize the signs that your attic ventilation needs improvement? Read on and contact the attic experts at EcoComfort.
Humidity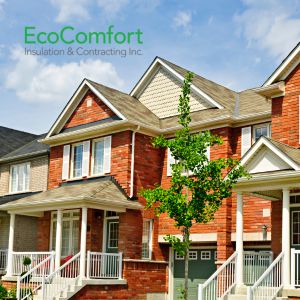 When ventilation in the attic is blocked or insufficient, moisture and hot air don't have an escape option, leaving your indoor space feeling humid. Heat and humidity can make for an uncomfortable living environment and even difficult breathing for some people. When moisture is trapped for long periods of time, it can cause damage to attic insulation and other important building materials. By installing new attic insulation, like rafter vents and soffit vents, you can minimize excess humidity around your property.
Stale Air & Odours
In the summer, you may start to feel like the air circulating through your home is stale and even smelly in some cases. This is because, with insufficient ventilation, there isn't an adequate opportunity for fresh air to come in and replace old air. This means that contaminants get trapped in the air you breathe and compromise your indoor air quality. If you're concerned about the ventilation in your home, schedule an attic inspection with EcoComfort, a leading insulation company in Vaughan.
Fluctuating Temperatures
Ventilation plays an essential role in the efficacy of attic insulation in Vaughan. Where your insulation is responsible for thermal resistance, ventilation is instrumental in letting hot air escape in the summer and retaining cool and conditioned air. When your thermostat shows fluctuating temperature readings and your air conditioning condenser is always running, you may have a problem with your attic ventilation and/or insulation. To be certain, contact the EcoComfort Insulator team to determine if ventilation upgrades or a switch to blown-in insulation is the best course of action. These upgrades will not only improve indoor comfort and air quality but also reduce monthly energy costs, saving you money on your utility bill.
Mold Infestations
Ventilation is a critical factor in keeping mold out of your home. Mold spores are attracted to attic environments, and without sufficient ventilation, spores can settle and grow into large-scale infestations that rot away at wood and take over certain insulation materials. If you smell the musty odour of mold but can't spot visible signs of an infestation, you may need attic mold remediation. It's essential to act fast, mold quickly deteriorates insulation and compromises air quality. By identifying mold in your attic, you can protect your home's energy efficiency for a healthier and happier home all summer long.
Upgrade Your Attic Insulation in Vaughan with EcoComfort
Give your home the energy efficiency it needs and put more money back in your wallet with EcoComfort insulators. We use high-quality blown-in insulation and offer premium workmanship. To find out if you need our services, contact our team of leading insulation contractors in the Greater Toronto Area.