The Dangers of DIY Attic Insulation Removal
Published on September 10, 2023
After 15 to 20 years, most homeowners will have to replace their attic insulation in Toronto to improve the energy efficiency of the property and preserve indoor comfort. Some may consider taking removal into their own hands to cut down on attic insulation costs. But, when it comes to the attic, there are many hazards to consider, making it much safer to contact a trusted and experienced insulation contractor like the EcoComfort team.
Read on to learn more about the dangers of do-it-yourself insulation removal.
Hidden Dangers in the Attic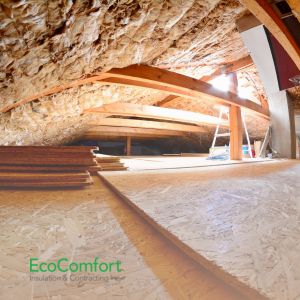 Attics can conceal a multitude of hidden hazards, far beyond just old insulation that requires removal. Mold thrives in damp and poorly ventilated attics, posing severe health risks. In addition, pests like rodents and insects can take up residence in your attic, damaging insulation and creating unhygienic conditions. To effectively address these issues, it is imperative to enlist the services of professionals specializing in attic mold remediation and safe attic insulation removal, like the EcoComfort team. Undertaking a DIY attic insulation removal project without first identifying and mitigating these risks can inadvertently expose you to health hazards and leave your home vulnerable to further damage.
Improper Removal and Installation
Improper insulation removal and installation are among the most common problems encountered in attics. If attic insulation in Toronto is not removed and replaced correctly, it can lead to inefficiencies, resulting in higher attic insulation costs and low results. Our experts specialize in blown-in insulation, enabling quick and efficient installation services with minimal disruptions to your daily life. Their expertise ensures that insulation is installed correctly,
maximizing its effectiveness and longevity.
Comprehensive Attic Inspections
When EcoComfort is entrusted with attic insulation removal, our scope of work extends beyond just removing old insulation and installing blown-in cellulose insulation. Our teams conduct a thorough assessment of your attic's overall condition, identifying any other essential repairs or improvements required. This may include enhancing attic ventilation to prevent mold growth or attic roof leak repair from extending your insulation.
Why Do You Need Attic Insulation Removal?
Over time, insulation installed at the time of construction or older material types deteriorates with exposure to elements or as a result of damage from causes such as mold, pests, water damage, inefficiencies, and other forms of deterioration. As the condition of your attic insulation in Toronto becomes more affected by the factors, the worse it performs, affecting your energy efficiency, indoor comfort, climate regulation, and air quality. If you notice a change in your home heat regulation, contact EcoComfort for an attic inspection and learn how investing in new attic insulation costs can save you money and give you peace of mind.
Upgrade to Cellulose Blown-In Insulation with EcoComfort
When you need attic insulation removal, trust the experienced insulation contracts at EcoComfort. Trusted as the leading attic experts in the Greater Toronto Area, EcoComfort will provide reliable and safe attic insulation removal and the option to upgrade to blown-in insulation. Get all your attic insulation services from removal to installation.