What is Snow Telling You About Your Attic Insulation in Toronto
Published on February 08, 2023
Because snow is a common occurrence in Southern Ontario, much of our infrastructure and construction is designed with the cold winter weather in mind. When snow inevitably falls and the temperatures drop, homeowners can learn a lot about the condition of their attic and attic insulation in Toronto. By paying attention to how snow settles, ice forms, or melts, you may realize that your attic needs some professional work from attic roof leak repair to insulation upgrades. For all things attic insulation in Toronto, reach out to the team at EcoComfort. Our experienced technicians offer comprehensive attic inspections and insights in the Greater Toronto Area.
Read on for more insight on the relationship between snow and your attic.
Uneven Melting & Attic Insulation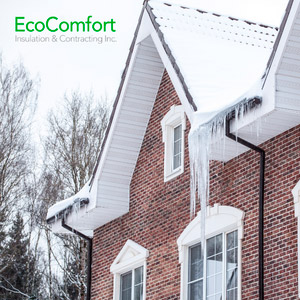 Insufficient attic insulation in Toronto can cause the snow on the roof to melt unevenly, leading to the formation of icicles on the roof. This is a clear sign that heat is escaping from the attic and warming the roof, causing the snow to melt. The melted snow then runs down the roof and refreezes, forming icicles known as ice damming. In addition to being unsightly, icicles can be dangerous as they can fall and cause damage or injury.
If you notice that the snow is melting evenly across the entire roof, it's a good indication that your attic insulation is sufficient. However, if you see areas of the roof where the snow is not melting at all, it could mean that there are ventilation problems in the attic, causing cold air to be trapped in the space and preventing the snow from melting. When you see strange snow melting patterns, it's a good idea to conduct an attic inspection in Toronto. The attic experts at EcoComfort will determine whether you are in need of better attic ventilation, attic roof leak repairs, an attic insulation upgrade, and more.
Snow & Attic Mold Remediation
When snow accumulates on the roof, it can cause attic mold if proper ventilation is not in place. When snow melts and the water infiltrates into the attic, it can cause moisture buildup if there is no proper ventilation to release the moisture. This moisture buildup can lead to the growth of mold, which can cause serious health problems, such as allergies and respiratory issues, as well as damage to the structural integrity of the home. Furthermore, mold can also weaken the insulation and reduce its effectiveness, making it less effective at keeping the home warm and comfortable. To prevent mold growth in the attic, it's crucial to ensure that proper ventilation is in place and to address any moisture issues promptly to avoid mold growth and the associated health and structural problems. EcoComfort offers reliable attic roof leak repair to keep moisture out of the attic and roof cavity, as well as attic ventilation upgrades and mold remediation.
Attic Insulation Upgrades with EcoComfort
Adding or replacing insulation in your attic is an investment that will pay for itself over time. Not only will it help to regulate the temperature in your home, making it more comfortable, but it will also help to reduce your energy bills. With proper insulation and ventilation, you'll be able to keep your home warm and comfortable during the winter months, while also saving money on your energy bills. To learn more about blown-in cellulose insulation upgrades in Toronto and the neighbouring cities, contact EcoComfort today.