What is the Best Insulation for Attics in Vaughan
Published on July 29, 2023
Attic insulation in Vaughan is an important investment. The insulation you choose for your attic can be the difference between recurring utility expenses and poor indoor air quality. With a trusted insulation company in Vaughan and a thorough inspection of your roof and attic cavity, you can make the best investment and choice for your property and your family.
There are many insulation options to choose from but the best attic insulation for Vaughan homeowners is blown-in insulation. High-quality cellulose insulation offers long-term benefits and exceptional energy efficiency.
Read on to learn more about why blown-in cellulose insulation from EcoComfort Insulators is the best attic insulation for your home.
R-Value & Insulating Capabilities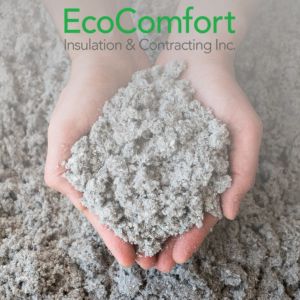 Made with specially treated recycled paper fibres and fire-resistant chemicals, blown-in cellulose insulation is an environmentally friendly option for attics that offers exceptional insulating properties, reducing unwanted heat transfer than many alternative options. By improving thermal resistance in the attic, blown-in cellulose insulation in Vaughan gives homeowners more control over their indoor climate, keeping the interior cool during the summer and war, during the winter. The better energy efficiency demands less from air conditioning systems and furnaces, ultimately resulting in reduced utility costs, maintenance, and repair costs throughout the year.
Reach Nooks & Crannies of the Attic
For optimal energy efficiency, insulation in the attic should reach the hidden corners and pockets of the roof and attic cavity. Blown-in insulation facilitates installation with loose fibres directed into target areas, the cellulose insulation can reach the entirety of the attic better than with alternative insulation options. As a result, there will be less gaps in the attic, allowing homeowners to realize better insulation performance and energy efficiency.
Attic Mold-Resistance
In Vaughan, where humid summers and cold winters are common, moisture control is essential to prevent mold and mildew growth. When mold gets into the attic as a result of water damage, poor ventilation, heat, and organic food sources, attic insulation becomes susceptible to mold. As mold gets into insulation it tears it apart. As insulation becomes more compromised it's efficacy declines too. Blown-in cellulose insulation has the advantage of being naturally mold-resistant. Moreover, cellulose insulation's ability to absorb and release moisture without compromising its insulating properties helps to maintain a stable indoor environment, reducing the risk of mold and protecting your attic's structural integrity.
Fire Safe Attics
Safety is always a top priority when it comes to insulation materials and attics are the leading source of house fires. So it's important that homeowners be confident in the insulation choice for their home. Blown-in cellulose insulation is treated with fire-retardant chemicals, making it a safe choice for your home. In the unlikely event of a fire, the insulation can help slow down the spread of flames, providing you and your family with valuable time to evacuate safely.
EcoComfort & Attic Insulation in Vaughan
EcoComfort is a leading insulation company in Toronto. Vaughan, Mississauga and throughout all of the Greater Toronto Area. Our team of experienced attic experts are committed to providing leading customer service, using non-toxic materials, fast insulation, and a full range of attic services. To get started with your insulation upgrades, choose an attic insulation company in Vaughan you can trust.