What is the Spring Telling You About Your Attic Insulation
Published on March 09, 2023
While bouts of snow come and go, spring in Southern Ontario is on the horizon. The prospect of warm temperatures is exciting for many property owners throughout the region, as it provides an opportunity to improve your home. Pay attention to the signs that you need to upgrade your attic insulation in Toronto to ensure you get the most out of your home improvements and maximize your energy efficiency. At EcoComfort, a leading insulation company in Toronto, our team provides a range of services from inspections and attic roof leak repairs to blown-in insulation installation to give your attic a healthy start for spring.
Read on to identify the signs that your attic insulation needs attention.
Attic Roof Leaks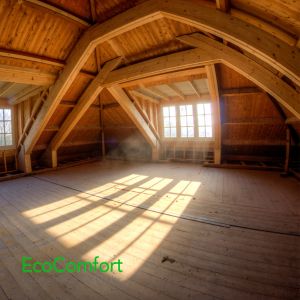 Attic roof leak repair is often requested in March and April as the snow melts and rain causes water to bypass the roof, entering the attic. However, since leaks are not always easy to detect in the attic on a daily basis, homeowners should turn their attention to the walls and ceilings, where leaks will cause stains and bubbles on the drywall. If you suspect that you may need attic roof leak repair, schedule an attic inspection in Toronto or elsewhere in the GTA with EcoComfort. When leaks are not promptly addressed, attics are more likely to become the target of a mold infestation.
Attic Mold Infestations
When water enters the attic, spring will cause temperatures to rise. If the insulation in your attic and around your property is not in good condition, temperatures will also rise within the attic, increasing the chance of mold infestations. Mold is prone to attics because of the abundance of organic materials, heat, and moisture. If you notice the foul odour of mold but don't see any visible signs around your home, you may be dealing with an attic infestation. EcoComfort offers reliable attic mold remediation services, where we can help you eliminate outbreaks within your attic and replace contaminated with mold-resistant blown-in insulation.
Fluctuating Temperatures
The purpose of attic insulation in Toronto is to regulate the indoor climate and minimize thermal heat loss. In the spring, many homeowners begin to switch their heat off or reduce their thermostat settings. Instead, they rely on their insulation to retain heat. If temperatures outside are steady, but the temperature reading on your thermostat fluctuates significantly, there is a good chance your insulation is no longer performing. You may notice your furnace working hard, similar to how it was working in the winter, despite a general improvement in weather conditions. For better insight into the performance of your attic insulation, talk to the EcoComfort team directly. Our team will check the condition of your existing insulation. If your insulation is contaminated or depleted, we can provide insulation removal and upgrades to increase your home energy efficiency.
Choose a Leading Toronto Insulation Company
EcoComfort is a leading insulation company in the Greater Toronto Area, providing Toronto, Mississauga, Vaughan, and other nearby cities with high-quality solutions.