What to Look for When Inspecting Attic Insulation Toronto
Published on May 05, 2022
When you suspect that there is a problem with your indoor air quality, energy efficiency, or climate control, the best way to understand what is causing the problem with your attic insulation in Toronto is with an inspection. Additionally, an attic inspection from a trusted professional, like the experts at EcoComfort, will give you insight and understanding of the attic insulation costs or roof repair costs.
There are many ways in which attic insulation in Toronto can become compromised. With an attic inspection from EcoComfort, you can identify these issues quickly and effectively, saving you attic insulation costs of an underperforming attic.
What Are Inspectors Looking for During Attic Inspections?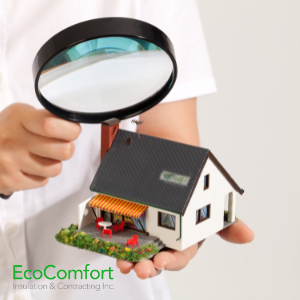 During an attic inspection, an EcoComfort attic expert will carefully explore the structure of the attic for vulnerabilities and strengths. The inspector will analyze insulation for contaminants or insufficiencies. They will also look at the roof cavity and the building materials to understand how they might be contributing to problems with attic insulation in Toronto. You will have been given an estimate of your attic insulation costs following an inspection. By upgrading your attic insulation with a high-quality service provider like EcoComfort, you will be saving yourself significant costs on heating, cooling, and more.
Mold-Infested Attics & Insulation
Mold spores are attracted to attics for several reasons. When attic insulation is not equipped with mold-resistant treatments, ventilation is low, or water has breached the interior creating excess moisture and humidity, mold can quickly contaminate attic insulation in Toronto and compromise air quality. As mold infiltrates the attic spaces and infests insulation materials, homeowners will likely experience a noticeable decline in performance, resulting in the expensive overuse of heating and cooling equipment to compensate.
Nests & Pests
No one wants rodents, birds, or insects occupying their home, but when they do so in the attic, homeowners often don't realize that their attic insulation and indoor air quality suffers. Because the attic is warm and shelters from the rain, animals tend to nest inside when they find a suitable opening or path via the roof. Here, birds and rodents will pick away at existing attic insulation and leave behind unsanitary droppings. Even if an animal is not present in the attic at the time of your inspection, your technician will be able to identify signs, like droppings and nests, that a bird or rodent is occupying the space. If your attic insulation in Toronto has been compromised by an animal, you may need attic insulation removal and upgrade.
Low or Blocked Ventilation
Ventilation is key to the performance of attic insulation in Toronto, yet many homes in the city suffer from blocked or inadequate attic ventilation. Stuffy, humid, and stale air are all signs of insufficient attic ventilation in Toronto. Upon identifying these qualities, your inspector will assess the condition of your vents. Installing rafter vents and other types of vents can help release hot air from your attic and protect your attic insulation from mold, animal infestations, and more.
Attic Insulation Inspections Toronto
When you contact the attic experts at EcoComfort to diagnose your attic problems, we will comprehensively assess every contributing factor in your attic for the best attic insulation upgrade possible. We know how to respond in a cost-effective and results-oriented manner from leaks to mould and pests.
Stop overspending on heating & cooling.