When You May Need Attic Insulation Removal in Toronto
Published on March 28, 2023
Attic insulation in Toronto is a crucial part of any home's energy efficiency system. It helps to keep your home warm in the winter and cool in the summer. When your home's ability to regulate indoor temperatures decreases, there's likely an issue with attic insulation. Over time home insulation is susceptible to damage and deterioration which ultimately results in it losing its insulating capabilities.
If you suspect that your attic insulation is no longer doing its job, it may be time to consider attic insulation removal in Toronto. With EcoComfort Insulators, you can upgrade to high-quality blown-in cellulose insulation and reduce your future energy and attic insulation costs.
Read on to learn when you may need to remove your existing attic insulation.
What is Attic Insulation Removal?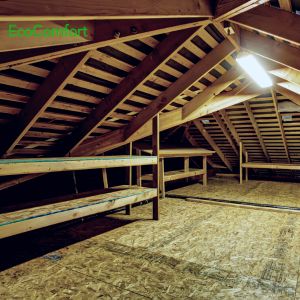 Attic insulation removal is the process of removing old, damaged, or deteriorated insulation from your home. Removal of attic insulation in Toronto is recommended when the existing insulation materials are no longer working effectively to maintain indoor comfort and energy efficiency. At this point, your attic insulation may be costing you in other departments, whether that's poor indoor air quality, expensive utility bills, or both.
High Energy Bills
If you notice that your energy bills have suddenly increased, despite your efforts to conserve energy, it could be a sign that your attic insulation is no longer working to retain heat or conditioned air. Deteriorated or damaged insulation allows heat to escape from your attic and leaks around the roof, leading to increased energy costs.
Uneven Indoor Temperatures
When some rooms in your home are consistently colder or warmer than others, it could be a sign that your attic insulation is no longer doing its job. Uneven temperatures as you travel from one room to the next can be a sign of air leaks, which can be caused by damaged insulation.
Critters in Your Attic
Overall pests, whether they're insects, rodents or even birds, should not be nesting in your attic. If you find recurring signs that there are pests frequenting your attic, your insulation will be more prone to damage and contamination. If not handled promptly, the worse the condition of the insulation will become, which will ultimately increase attic insulation costs. If you suspect that there are critters in your attic, contact EcoComfort to schedule an attic inspection. Our team will help you identify and address vulnerabilities before they increase your attic insulation costs.
Working with Insulation Professionals
If you suspect that you need attic insulation removal in Toronto, the first step is to get an attic insulation cost estimate from a professional insulation company. The cost of attic insulation removal will depend on the size of your attic, the type of insulation that needs to be removed, and the condition of your attic.
Once you have received an attic insulation cost estimate, you can decide whether attic insulation removal is the right choice for your home. If you decide to proceed with attic insulation removal, a professional insulation company will safely and efficiently remove the old insulation from your attic.
After the old insulation has been removed, the next step is to install new attic insulation in Toronto. EcoComfort, a professional insulation company can help you upgrade to blown-in cellulose insulation.