Which Costs More: Heating or Cooling Your Home?
Published on February 01, 2022
In most Toronto homes, the HVAC system (heating and cooling) can account for more than half of the total energy used throughout the year. When heating and cooling costs rise without reason, there could be a problem, particularly with the insulation in the attic. With attic insulation in Toronto, a good quality insulation product can make a big difference. In fact, upgrading insulation is one of the most cost-effective home improvement projects, making the attic insulation cost one of the best investments for any homeowner.
There's no question that attic insulation in Toronto plays a critical role in home energy efficiency. On the flip side, when attic insulation is lacking or poorly installed, energy efficiency is compromised. More than that, indoor comfort during winter and summer is negatively affected.
The Cost of Heating and Cooling Your Home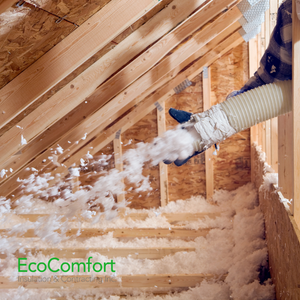 Attic insulation has a direct effect on home heating and home cooling. When the insulation is of good quality and properly installed, the home will be comfortable – warm in the winter and cool in the summer. Better still, a well-insulated home allows the HVAC system to operate in better balance, allowing for energy efficiency and lower energy bills.
Over time, attic insulation will deteriorate, and seasonal performance will do the same. It means that indoor comfort will be harder to maintain in winter and summer, thus causing the HVAC system to work harder and use more energy. Based on today's efficiency standards, insulation upgrades can reduce heating and cooling costs from 20-50 %.As a result, upfront attic insulation costs reduce heating and cooling costs that accumulate throughout the year.
Properly Maintaining the Furnace and AC
Proper maintenance of the furnace and air conditioning unit will ensure better performance and a longer lifespan. And with improved attic insulation, the HVAC equipment will run for fewer hours in order to maintain indoor comfort. This translates into much-reduced fuel consumption, which further translates into lower heating and cooling costs annually.
Save Attic Insulation Costs with an Upgrade
For homeowners upgrading attic insulation in Toronto, the savings on energy are practically immediate. And while some might be concerned about the attic insulation cost, the long-term savings on heating and cooling will almost certainly "pay down" the initial costs. Upgrading attic insulation is one of the best home improvement investments.
Is It Necessary to Upgrade Attic Insulation in Toronto?
When indoor comfort is lacking in summer and winter, it's a sure sign that attic insulation is just not performing. Indoor temperatures are often fluctuating – humidity levels are either high or low – and there may even be mold growth in parts of the house. The best way to identify the signs of underperforming insulation is with an expert attic inspection.
Attic Insulation Upgrades from EcoComfort
At EcoComfort Insulation & Contracting, our attic and roof experts will make your home more energy-efficient while lowering your annual energy costs. We install chemical-free, Canadian-approved products – our installers are fully insured – and all of our work is guaranteed. We service customers in Toronto and throughout the GTA and make every effort to satisfy every customer completely.
Contact the attic experts today to schedule your attic inspection in Toronto or elsewhere in the GTA.