Why Prioritize Attic Insulation During a Home Retrofit
Published on December 27, 2021
With the winter weather making itself known, homeowners in Mississauga are putting a lot of thought into improving their home energy efficiency. And while there's no shortage of retrofits to choose from, upgrading attic insulation should be one of the higher priorities. For attic insulation in Mississauga, it's best to consider high-quality products and professional installation – both of which are guaranteed at EcoComfort Insulation and Contracting.
When it comes to insulation upgrades, EcoComfort begins with a thorough attic inspection to determine performance issues that may need a remedy. This is particularly relevant since the attic is out of view in most homes and problem areas go unnoticed. More than that, insulation is only one component when enhancing energy efficiency. Air sealing, for example, is essential in making the attic airtight and ensuring the insulation's performance.
Improving Energy Efficiency While Retrofitting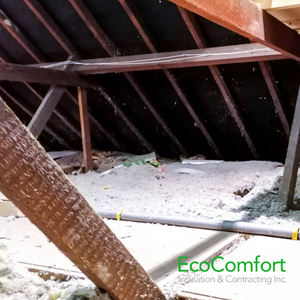 In addition to upgrading attic insulation, several other retrofits are required to support optimal energy efficiency. And because air leakage compromises insulation performance, air sealing is a critical upgrade even before any new insulation is installed. Anything short is not a complete job.
Air sealing ensures that holes, cracks, and crevices in the attic are effectively closed up. This airtight environment allows the installed insulation to perform better and enables the HVAC system to operate efficiently. Finally, proper attic ventilation is also a necessary component of a retrofit.
Identify Inadequate Insulation During Attic Inspection
Poor quality insulation or poorly installed insulation will negatively affect energy efficiency. More than that, the house will not be kept warm in winter and will not be kept cool in summer. Simply put, poorly performing insulation compromises both energy efficiency and indoor comfort.
Homeowners suffering from the detrimental effects of poor insulation often complain about common issues. And when these issues arise, it's the right time to make some upgrades.
temperature fluctuations from room to room
energy bills that seem higher than the usual
excessive moisture buildup (and even mold)
poor air circulation and related health issues
Some Benefits when Upgrading Attic Insulation in Mississauga
Homeowners who upgrade their attic insulation notice the benefits almost immediately. By any measure, the initial project investment pays off in noticeable dollar savings and indoor comfort.
Lower utility bills: A well-insulated attic reduces heating and cooling bills from season to season, year after year.
HVAC performance: Quality insulation allows the heating and cooling system (HVAC) to work in a much better balance.
Indoor comfort: A well-insulated attic ensures an indoor space without uncomfortable temperature fluctuations.
Indoor air quality: Appropriate air sealing and adequate attic ventilation work together to improve indoor air quality.
Upgrading to Blown-In Cellulose Insulation
For homeowners installing attic insulation in Mississauga, the team at EcoComfort Insulation and Contracting recommends blown-in cellulose. It's a cost-effective installation that improves home energy efficiency, enhances indoor comfort, and reduces the home's carbon footprint.
Blown-in cellulose is particularly suited for the attic because it provides very effective coverage throughout the space and delivers satisfactory R-Values. Once a thorough attic inspection has been completed, EcoComfort can recommend the best approach for retrofits and upgrades.